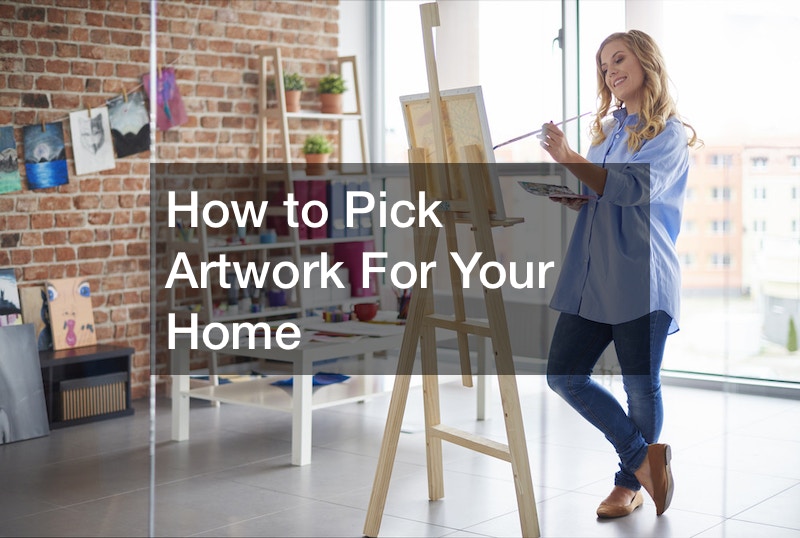 If you're wondering how to pick artwork for your home, you've come to the right place! These tips are designed to give you some ideas and help you narrow down your choices. Consider using these tips if you're looking for art that will truly make your space unique and reflect your personal style.
Consider Locations and Dimensions
For those wondering how to pick artwork for your home, consider the locations where you plan to hang the artwork. Different pieces will look better in different spaces – for example, a large painting might be perfect for your living room wall, but it could look too overwhelming hung in a small hallway or office. A 3D design, such as a sculpture, can be placed in any room, but it might look better when tucked into a corner or placed on top of furniture. Measure the space you have available before making a purchase, so you know exactly how large your artwork can be.
You can also use help from an interior designer to help you choose an artwork that fits in perfectly with your home décor. They can help you find artwork that looks good and fits great in your home. Size is everything when it comes to artwork, and with the help of an interior designer you can make sure that the piece you choose is perfect for your space.
Choose Colors and Textures
From shades to textures, the colors and textures you choose for your artwork can have a big impact on the overall look of your home. If you're having trouble deciding what colors to pick, take a look at the other elements in your space. Do you already have bright colors or subtle tones? Make sure that whatever artwork you choose complements these tones rather than clashing with them.
In addition, if you're wondering how to pick artwork for your home, consider the textures you'd like. For instance, corduroy can help create a 70s vibe, while velvet might be more modern. You can also consider the type of material you'd like to use – for example, wood can help create a rustic feel, while metal might create a more urban vibe.
Choose a Subject Matter You Love
Your artwork should be something that you love and can appreciate for years to come. Think carefully about what type of subject matter would best reflect your personality and interests. If you're looking for artwork that will make a statement, choose something bold and vibrant like metal art. Alternatively, you can opt for muted tones if you're looking for something more subtle.
No matter what type of artwork you choose, make sure it's something that speaks to you and makes you feel happy in your space. Don't be afraid to take risks and choose something that is truly unique. After all, this is a reflection of who you are! For those wondering how to pick artwork for your home, consider what message you want to share with guests. Do you want to talk about photography and contemporary art? Or classical renaissance? The choice is yours.
Consider Exterior Decor
When wondering how to pick artwork for your home, don't forget to spruce up your exterior as well. For instance, decorative stone or sandstone can add a touch of elegance to your home's entrance. If you have a porch or patio, consider hanging outdoor wall art or using freestanding sculptures to bring some life and character to the area. You can also choose an outdoor painting that will stand up to rain or sunlight.
If you need help with choosing stone decor for your home, consider consulting a professional. They can help you pick out the right materials and designs that will best suit your space. For instance, installing a grotto wall in your backyard could be a great way to add interest and color to your outdoor area.
Plan For the Cost
Original artwork might be a bit on the expensive side. An art appraiser can help you determine the worth of a piece before you make a purchase. However, there are plenty of affordable options out there that can still bring life to your home. Consider investing in prints or canvas art instead – these are a great way to get the same look but at a fraction of the cost.
You could also create your own artwork with paint and canvas, or you could have a custom piece commissioned by an artist. Either way, make sure you know what the artwork is worth to ensure that you're getting a good deal.
Auctions are also great places to find artwork at a discounted price. You can even shop online and take advantage of discounts and free shipping offers.
Installing an awning over your front door or patio can help create an inviting entrance to your home. It can also provide protection from the sun and rain, so you don't have to worry about artwork fading or becoming damaged due to the elements. You can choose awnings in different sizes and materials to match the style of your home.
An interior designer can help you pick out the perfect awning that will add character to your home. Or, you can select one yourself and even have it custom-made to fit your space perfectly.
Measure your deck ahead of time and make sure the awning you purchase is the right size for your home. Awnings are a great way to attract attention to the exterior of your home and will make your space look elegant and inviting.
Consider Themed Artwork
Where you place your artwork is as important as its subject matter. For instance, if you want to choose artwork for your dining room, consider something more traditional like a fruit or cooking painting. For the bedroom, you might want to opt for relaxing prints or calming colors.
Another great idea is to choose artwork that fits with the overall theme of your home. This could be anything from abstract art to contemporary pieces and even vintage artwork. Matching the artwork and color scheme will help create a cohesive and put-together look for your home.
No matter what type of artwork you choose, make sure it's something that speaks to you and makes you feel happy in your space. With the right combination of colors, textures, and themes, you'll be able to create a beautiful environment that reflects who you are as an individual. The right artwork can also help tie a room together and help create a cohesive theme.
Install an Accent Wall
With help from an interior painter, you can create an accent wall with artwork that complements the rest of your decor. Accent walls are great options for adding visual interest to a room without overwhelming it. You could choose an abstract painting, vibrant wallpaper, or even a mural to serve as the focal point of your space.
If you don't want to hire an interior painter and are wondering how to pick artwork for your home, you can also create an accent wall with art you already own. Simply group together pieces to create a unique hanging or collage that adds color and texture to the room.
Adding an accent wall is also a great way to display your favorite pieces of artwork without taking up a large amount of wall space. Just make sure you choose the right colors and textures to create an eye-catching display.
Consider Unique Signs
Signs are contemporary and trendy, and they can add a touch of whimsy to any home. Choose signs with inspiring quotes, jokes, or images that go along with the overall theme of your home. You can also opt for vintage signs or custom-made ones to make your space even more unique.
You can hire a custom sign company to create a one-of-a-kind sign for your home. Or, you could choose from the many signs available in stores or online. Place them strategically around the house to add an extra layer of personality and style to any room.
Some cute sign ideas for the living room include "Welcome" signs or inspirational quotes that will make guests feel at home. For the bedroom, you could choose a sign with a romantic phrase or something to remind you of your goals and dreams. And for the kitchen, why not pick an adorable quote about food? There are a plethora of fonts and colors to choose from when creating your signs.
Add Unique Light Fixtures
If you're wondering how to pick artwork for your home that's functional, custom lighting fixtures can be a great addition. You could choose something with an interesting shape or material that will help set the mood in any space.
Light fixtures come in all sorts of shapes, sizes, and colors, so you'll have no trouble finding one that fits your home's style. Think chandeliers for the dining room or unique pendant lights for the kitchen. You can even choose a statement piece such as a large, modern light fixture to turn heads.
Recessed lighting and mood lighting can also be great options for creating a cozy atmosphere and adding a touch of drama to any room. For instance, you could add a dimmable chandelier to your bedroom for extra romance or ambient lighting to the living room.
Install Floating Shelves
If you're wondering how to pick artwork for your home, consider adding floating shelves. Floating shelves are simple and effective ways to showcase your favorite pieces. You can hang artwork on these shelves or place other small items such as books or sculptures.
Floating shelves come in a variety of styles, so you can easily find one that fits with the rest of your interior design. Or, if you're feeling adventurous, why not build your own? This way, you can create a unique and personalized look that perfectly complements the colors and textures of your space.
Once you've chosen the type of floating shelf you want, simply arrange artwork on it to create an attractive display. You could also choose different items such as plants or figurines to add texture and dimension. Group items together to create an even more interesting look.
Consider A Single Artist
If you want to know how to pick artwork for your home and create a unique art collection, consider choosing works by one artist. This can be especially helpful if you're looking to establish a style or color scheme in your home.
For instance, if you want to create a modern look, choose an abstract painter whose colors and shapes reflect the contemporary aesthetic. Or if you prefer something more classical, pick an artist whose works feature figurative elements.
Once you've chosen an artist, hang their pieces in places such as the dining room or living room for a unique and eye-catching display. Or group several of the same artist's works together to create a mini-gallery.
Ask About Longevity
Some artworks, such as photographs, can last a lifetime if taken care of properly. However, other pieces such as paintings can fade or deteriorate over time.
When deciding how to pick artwork for your home, consider the longevity of the pieces you're choosing. Look into conservation and framing options that will help protect your art from environmental factors and keep it looking great for years to come. For instance, if you opt for a painting that is already older, make sure to have it professionally framed and matted. This will help keep the painting in excellent condition for years to come.
For photographs, ensure you don't place them in direct sunlight or expose them to high humidity, which can damage the image. Use archival materials for framing and matting to protect the photos from fading and discoloration.
By following these tips, you'll have no trouble picking the perfect artwork for your home! From choosing an artist to considering longevity, there are endless possibilities when it comes to creating a stunning art collection that reflects your style and personality.