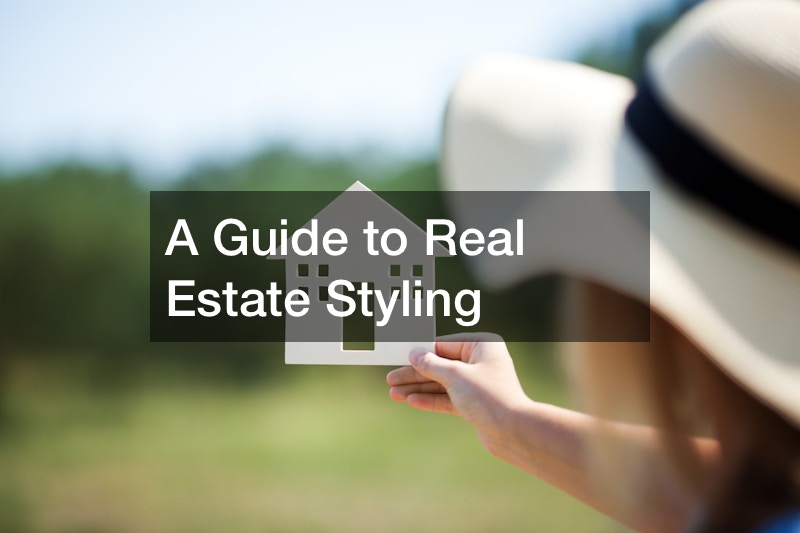 Real estate styling is one of the best ways to make a home stand out and increase its market value. With the right approach, you can turn any house into a desirable property that potential buyers will be eager to purchase. Here are helpful tips to get the most out of your real estate styling:
Add a Gas Fireplace
Many homeowners love the look of gas fireplaces since they provide ambiance as well as heat. Installing a gas fireplace can be a great way to make your home look more inviting and attractive to potential buyers. You can pair your fireplace with cozy furniture to create a warm and inviting atmosphere.
In addition, consider whitewashing the inside of the fireplace to give it an updated look. Other things you can do to give the room a modern feel include painting the walls, adding wall art, and/or installing new light fixtures.
In either case, having a gas fireplace at the center of the room can be a great way to draw potential buyers in. It's also a great way to appeal to people looking for traditional-style homes without needing to spend a large amount of money on renovations.
Ask Your Agent Questions
If you're working with a real estate agent for real estate styling, ask them about tips and tricks that they use to make the process easier. Your agent may have experience with certain types of staging, such as furniture placement or lighting techniques, that can give your home an edge in the market. They may also be able to recommend certain pieces of furniture or fixtures that could help spruce up the space.
For instance, some realtors might suggest including small plants or flowers to add life to a room or having a selection of books on the shelves of your living room for an inviting touch. Asking your agent these questions can help you get the best results from your real estate styling.
If you're working on your own, consider asking a designer instead. They often have a better understanding of what buyers are looking for and can provide valuable advice about making your home look its best. In either case, getting help with real estate styling can make a big difference when selling the home.
Install an Awning
Nothing beats the summer heat quite like residential awnings. For your real estate styling, consider investing in an awning to give your home shade and make it stand out from the competition. There are many different types of awnings available, so you can find one that fits your home's style.
In addition to providing shade, awnings can also be used for aesthetic purposes. For example, choose a brightly colored awning to draw the eye and add an attractive pop of color to your home's exterior. You can also choose to have the awning installed over your patio or deck for added protection against the elements.
Investing in awnings can also help you sell your home faster, as it's a feature that buyers often appreciate. This is especially true if your awning is paired with a deck or patio, as it can make the outdoor space more inviting. With a little creativity and knowledge of real estate styling, you can transform your home into a beautiful and valuable asset with little more than an awning!
Repair Your Roof
Both residential and commercial roofing services can be a great way to make sure that your home looks its best and appeals to potential buyers. If you're selling a home, it's important to repair any roof damage that's visible. This not only increases the curb appeal of your home but also helps to make it more attractive to buyers.
When it comes to making repairs, there are a few different services that you can choose from. For example, you can use a professional roofing contractor to fix minor damage such as leaks or missing shingles. If the damage is more extensive, you may need to hire a roofing company to replace the entire roof.
Whichever option you choose, repairing your roof is an important part of real estate styling. A properly maintained roof is essential for any home and can be a major selling point for potential buyers. In addition, repairing the roof can also help you save money in the long run, as it can prevent more extensive damage down the line.
Update Your Landscaping
Landscaping is another renovation to consider for your real estate styling. Many home buyers notice landscaping as soon as they pull up to the property, so it's important to make sure that yours is attractive and well-maintained.
When updating your landscaping, be sure to focus on the areas that buyers will notice first. This includes the front and back yards, as well as any views from the windows. You can also add features such as walkways, fences, or outdoor lighting to make the landscaping even more attractive.
For a more comprehensive approach, you may want to hire a landscaper to help you create a unique outdoor space. A professional can help you choose the right plants, design a walkway, and install outdoor lighting. And if you're looking for an extra touch, consider adding a water feature to your landscaping for an added wow factor.
Clean Your Home
A major part of your real estate styling should focus on cleaning your home. Looking for dump trailers for sale can help you prepare your home for sale. Make sure to thoroughly clean all areas of the house, both inside and out. This includes cleaning windows, walls, floors, and furniture. Other areas to focus on include the kitchen and bathrooms, as these can have a big impact on buyers.
In addition to deep cleaning, you should also declutter the home. Get rid of any furniture or items that are taking up space but do not add any value to the home. This will help buyers focus on the important features of your home and make it look more attractive.
Commercial cleanings are also an option if you're looking for a more thorough approach. Professional cleaners can come in and take care of every detail, from top to bottom. This is especially helpful if you're looking to really make your home shine and stand out from the competition.
When hiring a commercial cleaning service, consider their experience and reputation. Ask them for references and make sure that they are licensed, bonded, and insured. This will help you find a reliable service that can provide you with the best results possible.
Fix Your Heating and Cooling
No one wants to buy a home without adequate heating and cooling. Hire an HVAC company to inspect the furnace and air conditioning units to make sure that they are in good working order. Any problems should be fixed before you put your home on the market.
This is especially important if you're selling a home during the winter or summer months. Buyers will not want to purchase a property without heat and air, so it's important to make sure that all systems are functioning properly. Heating and cooling maintenance is a critical part of real estate styling, so be sure to take care of any issues before showing the property.
Some signs you need help can include strange noises or smells coming from the furnace, uneven temperatures in different rooms, and higher-than-normal utility bills. If you're not sure what to look for, contact a local HVAC company to come and inspect your system. This way, you can make sure that your home is ready for potential buyers.
Painting Your Home
One easy renovation you can do for real estate styling is painting your home. By giving your walls a fresh coat of paint, you can make your home look more attractive and up-to-date.
Choose a neutral color scheme that will appeal to potential buyers. Light shades such as beige, gray, or white can brighten up the space and make it look bigger and brighter. You may also want to hire a professional painter for the job if you don't have the time or experience to do it yourself.
Painting can also be done on the outside of your home as well. This is important for buyers who view houses from the street or driveways. A new coat of paint can make a huge difference in how your home looks and help increase curb appeal.
Regardless of what style of real estate styling you choose, keep in mind that it's all about making your home look as attractive and inviting as possible. By taking the time to invest in painting improvements, you can help ensure that your home stands out from the competition when it comes to selling. With a few simple tweaks, you can turn an ordinary house into something that's stylish and sells for much more than its worth!
Repaint Your Boat
Some homeowners choose to sell their house along with extra items, like their boat. Whether you use your boat for marine surveying or just for leisure, it's important to invest in repainting the vessel.
Painting your boat is a good way to give it a fresh look and make it more attractive to potential buyers. You can choose from a variety of colors or stick with traditional white for a classic look.
If you decide to paint your boat, be sure to use the right type of paint and take all necessary safety precautions. You may also want to hire a professional boat painting company if you're not experienced in this process.
Having a freshly painted boat can add value to your property and show buyers that you take pride in maintaining your home and its belongings. Repainting your boat is a great way to make sure that it looks its best and can add an extra touch of style to your real estate styling.
Remodel Your Golf Cart
Similar to fixing your boat, golf cart repairs and service can add more flair to your home. With help from custom golf cart seat manufacturing services and other professionals, you can remodel your golf cart and make it look new.
A custom golf cart can be an eye-catching addition to your property and help draw in potential buyers. You may also want to consider adding special features such as a sound system, cup holders, and other accessories.
No matter what type of real estate styling you choose, the goal is to make your property look as attractive and inviting as possible. Investing in remodeling or repainting the items around your house can help give it a more modern feel and set it apart from other properties on the market. With a few simple improvements, you can turn an ordinary home into something extraordinary!
Replace Your Septic
It's vital to pump out septic tanks and repair any leaks or damage before putting a home on the market. This will help ensure that potential buyers don't encounter any plumbing problems down the road.
As part of real estate styling, you may want to consider replacing your septic system altogether. New systems are more efficient and can reduce water bills for homeowners in the long run. Installing a new septic system can also increase the value of your home and make it more attractive to buyers.
When replacing your septic, be sure to hire a trustworthy contractor who is experienced in this type of work. This will help ensure that your new system is properly installed and functioning correctly.
Real estate styling doesn't have to cost a fortune. By making simple improvements to your home and the items around it, you can make it look more attractive and inviting for potential buyers. Investing in the right details can help set your property apart from the competition and increase its value!