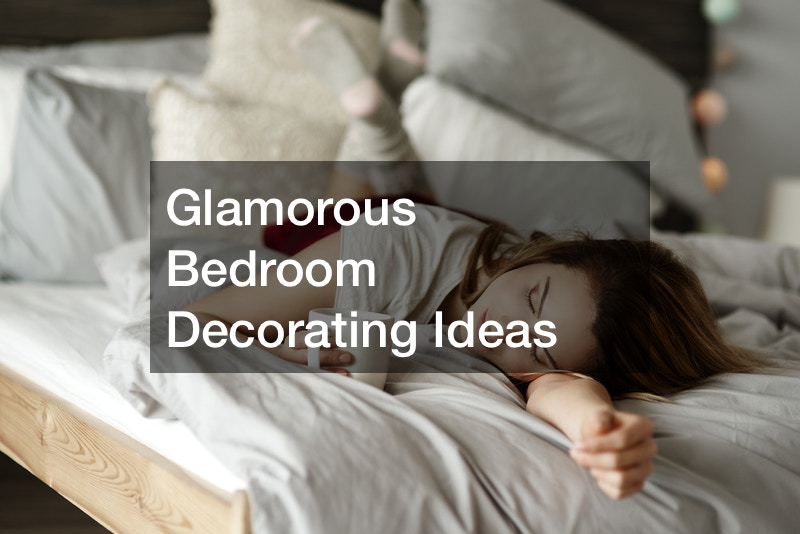 Floor trusses, bed, lamps, headboards, nightstands—whether you're are looking to explore your more creative side or you just want to give your bedroom a makeover, there are several things that you can do to make your bedroom feel well designed. When it comes to bedroom design, it's all about coziness and functionality. Here are some glamorous bedroom decorating ideas to consider.
Keep Things Simple
The goal of decorating your bedroom is to make it look cozy, elegant, and sophisticated, regardless of what style you pick and what elements you choose. However, you should remember to leave some space so you can move around easily. To ensure that you can move without struggling, try to leave a minimum of 3 feet between your bed and the walls or any large piece of furniture in your bedroom. For instance, if there is a table or dresser, it should be at least three feet away from your bed. If you find yourself having to walk around the bed so you can get out of the closet or bathroom, find ways to move the bed so things can be more streamlined.
To leave some space in the bedroom, try to furnish your bedroom only with the things that you need. If you can have a bed, bedside tables, a dresser, and a chair, that will be enough. You can only add other things if the bedroom is spacious enough. If the room is small, anything else you add can start to look like clutter, and it can easily add to the feeling of chaos in your space. Try to keep accessories to a minimum. It would be good if you could have a piece of artwork, some family photos, and a few flowers and candles. Once you have those things, let the rest of the room breathe.
Follow Your Personal Style
If you are looking to get the best out of bedroom decoration, you need to follow your personal style. After all, once you are done decorating, the bedroom should appeal to you. You must never be too caught up in decorating tips that you end up with a space that doesn't make you feel good. The idea is to end up with a bedroom that's tailored to your needs. The only reason you will go online to check out some ideas is so you can get some inspiration and get a feel of how you can combine different elements together to come up with something that suits you.
Along the way, as you see different pictures and videos, make sure you are asking yourself what suits you and what appeals to you. If you fall in love with a specific kind of look, be it an upholstered headboard or a carpet, be sure to leave room for it in your ideas. This means by the time you are done researching, you will probably have a list of things that you think are suitable for your bedroom. The only thing left will be to bring everything together so you can get the bedroom of your dream. If you feel like you are failing to come up with elements that flow well with each other, you can even enlist the services of an interior designer.
Don't Overlook the Ceiling
Before you spend all your money buying new furniture and investing in different bedroom decor elements, you should remember to play around with the ceiling. You can think of it as the fifth wall in your bedroom. While you can overlook it in some rooms, it plays a huge role in the bedroom. After all, most of your time in the bedroom is spent lying down and staring at the ceiling. To add some glam to your bedroom, add a subtle pattern to your ceiling. This is a great way to make the room feel more stylish and considered.
Another great idea would be to paint the ceiling using a slightly lighter version of the color used on the walls. This will help you create an impression of a lower ceiling, which increases the intimacy levels of your bedroom. Apart from adding a lighter shade of paint, you can also wallpaper the ceiling. Other people prefer adding architectural elements like beams or moldings. If you are looking to set your bedroom apart and add a touch of luxury, you should consider throwing in a molded medallion and chandelier of crystal. These are some great ways to add some pattern and texture to the fifth wall above you.
The ceiling gives you a great opportunity to change the way your bedroom looks. It is the largest clean surface in any room, and the majority of decorators forget all about it. If you are looking to change the feel of your bedroom, you must never fail to make use of this untapped resource. If you are not looking to do things on your own, you can even consider having a molded ceiling done.
Choose Your Furniture Carefully
When you are decorating your bedroom, your furniture choices play a big role. If you have a particularly small room that won't fit standard furniture sizes, it might be a great idea to order some custom furniture with measurements that are tailored to suit your bedroom. If the bedroom has enough space, it then becomes a matter of choosing the right furniture. Before you buy furniture for your bedroom, start by creating a floor plan. You can even make a measured drawing of the bedroom and make sure everything is to scale. That way, you can be guaranteed that you won't end up with things that don't fit. The idea behind creating a great look in the bedroom is to have furniture that fits.
Avoid choosing a super heavy, large dresser, and bed if your bedroom space is very small. On the other hand, if you have a big room with a tall ceiling, you should consider having a tall headboard that will help bring the room down to size. Just like you don't want furniture that's too big in a small room, you must also avoid small furniture pieces in a large room. To help fill the extra space, you can add a chair, ottoman, or even a table at the end of your bed. Using small accessories and furniture in a large room will make your choices seem lost.
Apart from the actual measurements of your bedroom furniture, you should also consider the visual weight of your furniture. It's important to keep in mind that every piece of furniture that you buy has visual weight. For instance, a small bed frame without a headboard is generally much lighter than a chunky bed frame with a huge headboard.
As you are selecting pieces of furniture for the bedroom, you should stop and consider the visual weight of each element. In smaller bedrooms, always go for a light-looking bed and minimal nightstand. On the other hand, if your bedroom is large and high-ceilinged, consider tall headboards and large pieces of wall art. This will help you fill out the space. A great way to change the visual balance of your bedroom is to add a wall mirror. This will help you create a negative visual weight, almost like adding extra space to your bedroom.
Have Plenty of Storage
To make your bedroom cleaner and more streamlined, you should consider storing things out of sight as part of your glamorous bedroom decorating ideas. This will help you create a serene feeling and make the room appear roomier. There are lots of ways to increase the amount of storage in your bedroom. For instance, you can choose bedside tables with drawers or doors where you can hide your books, reading glasses, and lotion. That way, everything will be out of sight but within reach. To add even more storage, you can throw in a skirted table with drawers as well.
If your bedroom is large enough, you can also consider throwing in a trunk or a storage bench at the foot of the bed. This will be useful when it comes to storing extra sheets, blankets, and pillows. If you don't like having books and accessories all over the place, you can also get a headboard with built-in shelves and sliding panels. These are some of the great storage ideas that can ensure that you only see what you can't hide in the bedroom.
If you don't have a lot of space for extra storage furniture, there are some great ideas you can take advantage of as well. For instance, you can place shallow boxes under the bed where you will store smaller accessories and your out-of-season clothes. This will help you make the best use of your existing closet space. No matter how many expensive and glamorous pieces you include in your bedroom, as long as things are cluttered, you may not be able to get the streamlined look you want.
Indulge in Luxurious Linens
Fabric plays a huge role in bedroom decor. Luxurious linens definitely make the list of glamorous bedroom decorating ideas. If you want to up the comfort levels of your space, you should consider outfitting your bedroom with beautiful and luxurious fabrics. To give your bedroom an expensive and glamorous look, try to avoid purchasing sheets that are less than 100% linen or cotton. You should also go for options with thread counts that are at least 350. You need sheets that look like they just came from a five-star hotel. Even after you purchase them, it's important to do all you can to ensure they maintain that appearance. A great idea would be to send them to a dry cleaner for proper washing and ironing. It won't cost you much, but it creates a crisp smoothness that you will appreciate.
Apart from the sheets, there are lots of other sensual fabrics that can make your bedroom look like something out of a hotel magazine. For instance, you can buy a soft cashmere throw that you will place carefully on the arm of a chair. You can also go for textured wall coverings and luxe drapes. To take things even further, consider getting a breezy bed canopy or a plush rug. These are all great ways to make your bedroom look and feel glamorous.
Remember Windows and Window Treatments
Windows play a huge role when it comes to decorating any room, especially the bedroom. This is why they mustn't be left out when thinking of glamorous bedroom decorating ideas. Before you think of window dressing, you should first address the windows themselves. How do they look without drapes or blinds on? If your windows are old and broken, you might want to consider a new window glass installation. Once you manage to install new ones, you can also move on to different window treatments. By visiting window treatment businesses, you can get ideas of how window treatments can help bring the design of your bedroom together. Once the windows themselves have been addressed, it will be time to move on and dress them.
A properly dressed window will help frame the view. This is also a great way to add softness, color, texture, and pattern to your bedroom. If you are in love with soft curtains that filter light, you can combine them with interior blinds. Blinds are great for more privacy at night and you will be able to block the morning light as well for those days when you want to sleep in.
Opt for Unique Bedroom Lighting
Lighting is a great way to add the final touches to your bedroom decor. It definitely makes the list of glamorous bedroom decorating ideas. To get the most out of your bedroom, consider layering your lighting throughout the entire space. If you are not sure how to approach your bedroom lighting, you might want to browse the internet for some inspiration. Ambient lighting is great for illuminating the whole room, while smaller lamps can be used to provide focused light for reading. To wash your walls in soft illumination, go for accent lights.
If you are looking for a more focused reading light source, you can throw in some bedside lamps with movable arms. You should also ensure that all of the lights in your bedroom have an adjustable dimmer. If that's not possible, you should at least install separate on and off switches for each light so you can isolate and turn off the lights you don't need. Layering your lights is good for maximum functionality and cohesion.
These are some of the glamorous bedroom decorating ideas that you can utilize. You should always take your time when you are choosing elements to include in your bedroom so that everything works well with each other. There are lots of elements that come together to make a great bedroom design. Things like choosing between vinyl flooring, hardwood flooring, and epoxy floor coating all help you create the bedroom of your dreams.
Now that you have gone through our glamorous bedroom decorating ideas, you should also ensure that your bedroom is comfortable when it comes to the quality of air. If the air conditioner is malfunctioning and it's too hot or cold at times, it might be time to consider a new mini split HVAC installation. Also, don't forget to deal with the junk left after you are done decluttering and cleaning out your bedroom. If you are not sure where to begin, you should consider hiring a junk removal business.