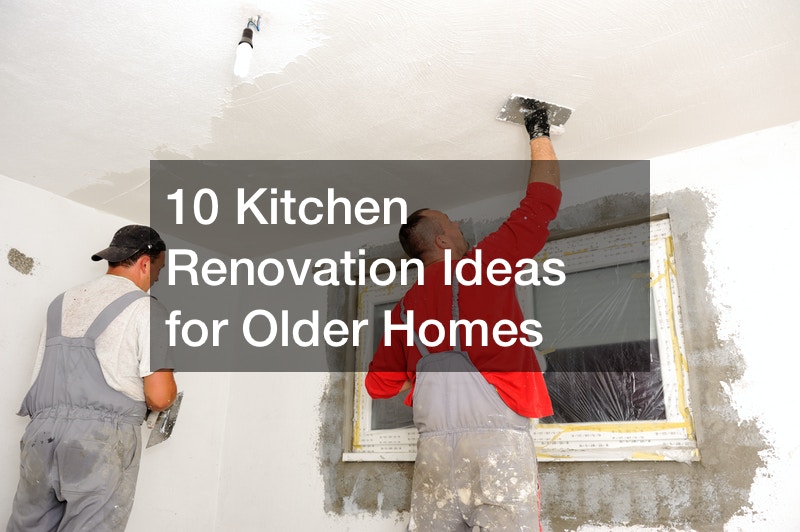 Older houses have a certain appeal that makes them warm and inviting. Any changes made should be thoughtful and well-planned.
Since cooking, eating, and socializing all take place in the kitchen, renovating it has a noticeable positive impact on many homeowners' quality of life. Older kitchen remodeling calls for a more cautious and thorough approach. Fortunately, this article will provide you with ten of the best kitchen renovation ideas for older homes to consider.
Cabinets
Upgrading your kitchen cabinets is one of the most vital kitchen renovation ideas for older homes to adopt. It will probably make a big difference in your kitchen by giving it a new, modern look. But adding more useful cabinets in different locations depends on the size of your kitchen.
Ready to assemble kitchen cabinets (RTA) include all the hardware required for assembly in a flat pack. One of the significant benefits of the RTA kitchen concept is that you save money on labor costs enabling you to spend more on high-quality materials.
You may need to remove some walls or rearrange countertops if you want to change the arrangement completely. Replacing worn-out, outdated cabinets with brand-new, appealing ones will instantly improve the overall kitchen outlook.
You might consider cabinet refacing if a simple cabinet replacement is not viable. In a cabinet refacing, the drawer fronts and cabinet doors' exterior covers are all that are changed. Therefore, you can gain from a simple cabinet refacing at low rates if your drawers or cabinet doors have mechanical issues.
Storage
The open concept kitchen is increasingly becoming popular. This concept promotes opening up the area between the kitchen and living room by removing some/all of the walls. Of all the other kitchen renovation ideas for older homes, this is the main one to consider if you want ample space in your kitchen to enjoy spending time at home with friends and family.
Upgrading a kitchen layout to create appropriate space can significantly increase the home's worth when you decide to sell it. Several kitchen remodeling options exist to achieve this, depending on your budget and preferences. For instance, you could take down the partition separating the kitchen from the room next door.
But remember that you don't want an island that is too large and appears out of place. Leave 36 to 48 inches of room on all sides for foot traffic. The function frequently determines the size and design of the kitchen island it will perform.
If you already have enough counter space and storage on the other part of your L-shaped kitchen design, you may consider removing that portion to save additional room. Lastly, adding a window or enlarging an existing one will give your kitchen a more modern appearance, especially if you have the opportunity to have a window just behind the sink.
Paint
It is common for many homeowners to change the colors of their older kitchens during renovation projects. They frequently switch from warmer to cool colors since these kitchen color schemes help highlight the high-quality materials and design of the renovated kitchen.
However, it's essential to comprehensively approach the topic of color as a vital part of the kitchen renovation ideas for older homes to enable you to achieve the desired results without color clashing. For instance, if you decide to replace your oak cabinets with contemporary grey and mint ones, the new cabinets may clash with your old countertops or the red corner fridge.
Therefore, consider that various factors affect the color scheme in your kitchen and give each one considerable thought before beginning an older kitchen renovation project. To achieve the desired results, ensure you only seek the services of experienced painting professionals.
Countertops
Practical kitchen renovation ideas for older homes must also include upgrading countertops to replace outdated ones. Before investing in a new countertop, think about the style and color of your entire kitchen. It would be best to consider quartz countertops since they are long-lasting, easy to clean and give your kitchen a more modern look.
For a good reason, granite slabs are also widely used for kitchen remodel projects. Countertops made of solid granite slabs are incredibly sturdy, long-lasting, and increase the value of a home. In comparison to granite tile and granite modular, slabs are a better option.
Marble is another natural stone alternative common in modern kitchen countertops. It is among the most appealing natural stones because of its distinctive look and veining patterns. Marble comes in three forms: solid slabs, marble tiles, and modular marble.
Flooring
Old kitchen floors tend to have experienced significant wear and tear due to spills and drips, heat, dropped utensils, and regular foot traffic expected in this part of the house. Therefore, it's essential to consider appropriate flooring as part of the kitchen renovation ideas for older homes to adopt.
Not all materials are appropriate for this setting, and specific kitchen flooring selections will require less upkeep and last longer than others. To make the best decision, consider comfort, functionality, and style equally. For instance, hardwood flooring is an ideal choice for most homeowners.
Modern sealers and polyurethane treatments that make the material more resilient and long-lasting for humid locations, like the kitchen, are why people use it in kitchen renovation. Hardwood also helps the house gain a high resale value and can be restored/sanded to seem brand-new if it gets too old.
Additionally, several businesses provide engineered flooring consisting of planks with additional layers bonded to a thin hardwood layer on top. Engineered flooring helps to stop the floor from shifting over cycles of expansion and contraction.
Ceramic tiles are water- and stain-resistant flooring materials, also making them an excellent choice for kitchen floors. They are durable under normal circumstances, with little changes in how it looks or works over time. They come in various colors and designs and can mimic the appearance of other building materials like stone and wood.
HVAC System
Due to the smoke, heat, and aromas familiar during cooking, the kitchen can become uncomfortable if it becomes too stuffy. Including efficient HVAC services is part of the crucial kitchen renovation ideas for older homes to consider since proper ventilation will make a significant difference.
Depending on your needs, air conditioning systems can maintain the proper temperature. Installing the HVAC system in your kitchen will control the temperature and provide a host of advantages, like sustaining stable food-safe temperatures and preserving the freshness of your ingredients much longer.
It will also eliminate the stuffiness and lingering food aromas, leaving the entire house smelling as fresh as ever. Consult a specialist to help you determine which system is ideal for you. These HVAC experts can offer you the best suggestions for your kitchen so you can make meals in a pleasant setting.
Sink
A kitchen sink is helpful for various tasks, such as washing produce and rinsing dishes. When cleaning, it is frustrating to have dishwater spilling all over the countertop and floor hence the need to include an upgrade of the sink among the key kitchen renovation ideas for older homes.
Homeowners should match the sink's dimensions to the room's size. You might want to consider a more significant sink or multiple sinks if your kitchen remodeling project involves enlarging your kitchen. There are many options and combinations for kitchen sinks, such as stainless-steel ones. The sinks are popular in many households because they are durable, affordable, and easy to clean and maintain.
During the renovation, proper installation of the sinks is another part of kitchen renovation ideas for older homes to keep in mind. The most common installation types are under-mounting the sinks to create a barrier-free passage from countertop to sink. The benefit of this method is that the sink does not accumulate dirt and debris above the counter seal.
Another popular sink installation option is the drop-in sink. The sink's lip rests on the countertop after being lowered into a hole in the countertop. Drop-in sinks are affordable and easier to replace. Double basins are also a standard configuration, offering two equal-size basins.
Before installing the new kitchen sink, ensure that the plumber conducts a thorough drain cleaning of your kitchen's plumbing system. This process is vital to clean out all the grease and food particles that may have stuck while flushing down dishwater while washing dishes from your previous kitchen sink.
The buildup in sink drains may cause havoc on your home's sewage lines and pipes if you don't periodically clean them. Regular drain cleaning is essential to prevent future issues and property damage. Kitchen renovation is the best time to have this activity carried out.
Lighting
Lighting options are another aspect of kitchen renovation ideas for older homes you must consider. There are various factors to consider to give your kitchen the ambiance and effectiveness you desire. The atmosphere you want to create should be your first consideration when arranging the lighting for your kitchen makeover.
For instance, you should choose recessed lighting and bulbs with higher voltage ratings if you want the kitchen to be bright and feel lively. Install adjustable lights so you can manage the brightness in the kitchen for an intimate setup with your loved ones. You can also choose LED ceiling lights for task lighting and financial efficiency. In addition to being environmentally beneficial, LED lights reduce electricity costs significantly.
The chandelier is the most eye-catching of the various ceiling fittings chosen for the kitchen. The right chandelier selection can alter the kitchen's entire ambiance. When selecting a particular fixture, remember that the chosen chandelier will require frequent cleaning and re-lamped.
Appliances
The most crucial element of a kitchen is its appliances because they are the tools used in getting things done. Therefore, it's essential to include them in the kitchen renovation ideas for older homes to prioritize. Since outdated appliances become less efficient, replacing them is always wise.
Modern appliances are more efficient and appealing to the eye. However, don't put more emphasis on appearance over function. It is why you should invest in brand-new, high-end equipment for the room's overall utility as well as novelty in appearance.
Modern appliances have evolved not only in terms of functionality but also in terms of appearance. When shopping for modern devices, choose the ones that meet your needs while still providing a fresh look to complement the décor and concept of your renovated kitchen.
Shelving
Gone are the days when guests would frown at seeing your silverware out in the open; many people are warming up to the idea of open shelving. As a result, open shelving has to be among the kitchen renovation ideas for older homes if you want to make your remodeled kitchen stand out from the previous one.
There are many ways to experiment and be creative with open shelving. For example, to draw attention to the wallpaper or paint, you may choose white open shelves and combine them with your updated cabinets.
Another option is to install shelves between windows or in the kitchen's corners to showcase your most valued recipes, pottery, and teacups without completely removing the cabinets. Add hooks to it so you can hang things, or choose elegant boxes and baskets to make it look classy.
Remodeling your old kitchen is an excellent way to maximize its utility and appearance. These ten kitchen renovation ideas for older homes mentioned above are worthwhile to consider in achieving a modern look while increasing the effectiveness and efficiency of your kitchen. If you have any questions or need any help, feel free to contact us for professional assistance.