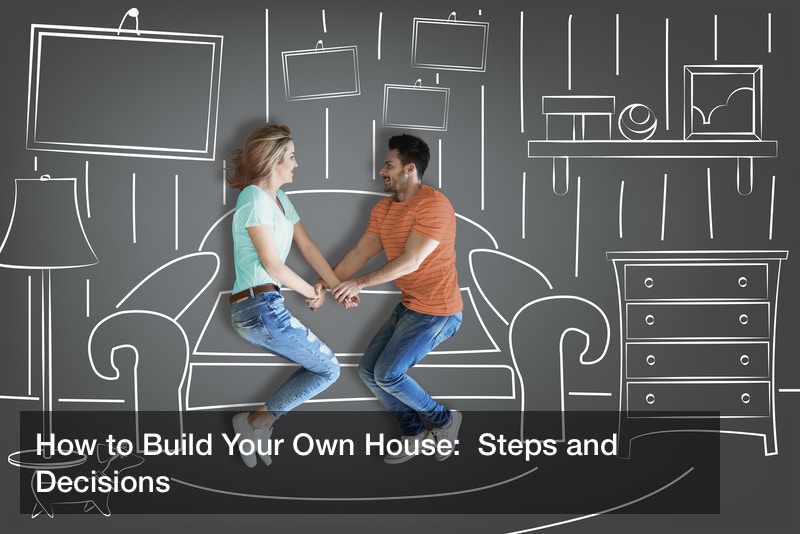 Updated 12/9/20
When you want a place that has everything you want and need from a home, it's time to build a home of your own. Building a brand new home is a long process and it's a tough job. However, when many people think about what it would be like to build a new home vs buy, they decide that the hard work is worth getting a custom home. There are custom home sites virtually everywhere and they are ready for you to come along with your plans and your crew.
When you want to build a new house, one of the first steps is to find a company that offers house construction services. You can then work with them to create a home design that will drive the build. Your home builders developers may give you insight into certain designs and how they would benefit you and your home. A collaboration between yourself and a design company is usually the best way to proceed. When it's time to actually break ground on the new house, everyone should have signed off on the plans and know exactly what their part of it is. Then, you have to wait for your custom home to be finished.
Did you know? The home improvement industry in the United States expanded by 5.5% in 2019. While most people are at least slightly familiar with how to maintain a home, when it comes to how to build your house yourself, things become a lot more complicated.
Learning how to build your house and constructing your own home is a bold goal to set, and an even bolder project to achieve. Lots of people have the dream of eventually owning their own home, but actually building a house yourself takes a whole new level of skill and dedication. Yes, you'll probably outsource the construction to your local contractors and roofing business, but just making design and feature choices is a big job in itself.
However you choose to get the job done, this article will tell you how to build your house: the major steps and decisions you'll need to make along the way to having your home finished. From brainstorming your first blueprint to hiring a plumber for the last time, keep reading to learn how to build your house.
Initial Considerations
Before you hire contractors or start doing the work yourself, there are some preliminary decisions you should make. We'll be talking about those first.
Is Building Your Own House Worth the Cost?
Houses come in all shapes and sizes, literally. Whether you live alone or have a family of five and three dogs, there are so many available homes on the market that you can probably find one to suit your needs perfectly. Because of this rich choice of existing housing stock, most aspiring homeowners settle for buying a house from someone else, especially since the cost of building a new home is comparatively high. And this isn't a bad choice: the majority of houses are highly durable and will last for decades, and they can be remodeled to suit your tastes. They also have the potential to go up in value, which make your mortgage loan more worthwhile.
Yet despite the costs, newly constructed homes possess an undeniable allure. It can be designed from the ground up to fit your family's needs, hidden problems and secret structural damage are a nonissue, and hazardous materials such as lead-based paint and asbestos are non-existent. New advantages can be built into your house at will, while old problems leftover from years of wear don't apply.
If building your house yourself is still your first choice, it's no surprise, as it comes with many benefits. Just make sure you understand the work and financial costs involved, and that your budget and schedule can handle it. If those criteria are met, learning how to build your house can be one of the most rewarding experiences of your life.
Should You Act as Your Own Contractor?
When you finish counting the costs and decide that building a brand-new home is the right step for you, your next challenge is to decide how it should be done. Some people who decide to build their own home do just that: build their home themselves, acting as their own general contractor. Often this is because they can save money by doing the work themselves. Even if you are not a licensed contractor yourself, your state might allow you to become what's known as an owner-builder, so you can still guide the construction of your house yourself legally. If this is allowed in your state, you will need to apply for an owner-builder exemption and sign a building permit. From there, you can take as much of the design and construction work upon yourself as you see fit, while also hiring any specialists and laborers you want help from.
Although this is usually something you can do, it's important to recognize that very few people are qualified to act as their own contractor. It's not just about knowing how to build your house — it's also about coordinating subcontractors, building inspectors, and material deliveries, all in the appropriate order and with minimal expense. You'll need to be familiar with local building codes to ensure your house gets constructed correctly.
On the other hand, hiring a general contractor gets you all of this expertise and more. Besides knowing the ins and outs of home building, a good contractor will have a network of trustworthy, reliable subcontractors, such as your best local plumbing company. And having a contractor build your house doesn't remove any creative control from you, as you still get to decide exactly how it's designed. Of course, a great general contractor won't come cheap, but if you aren't a highly skilled contractor yourself, you could be saving money in the long run by having an expert at the helm. Overestimating your abilities could result in countless lost hours and a literal fortune in extra costs from mistakes.
However, you have a third option when it comes to hiring a contractor or building the house yourself: you can hire a contractor to control the structural construction project, then do the less critical finishing tasks yourself. Once most of the house is built, there will still be hours of slow labor involved in building patios and walkways, painting and installing window treatments, installing flooring and carpet, and creating the landscaping. While all of those tasks do require some skill, most of them can be mastered sufficiently throughout a studious weekend. And even though they're fairly simple compared to constructing a home, they still require dozens of hours of labor to complete, so you could stand to save a considerable amount of money by doing them yourself.
If you choose to hire a general contractor to build the house and do these finishing tasks yourself, keep in mind that you should wait until after all hired contractors are finished with their work before you begin. Technically you could start working on the yard and exterior paint before the plumbers and electricians get finished, but you could risk being in their way, which might slow things down. It's best to wait until the very end.
Getting Started
After you've decided how your home will be built and verified that your budget and schedule can handle it, it will be time to start the project. You won't be digging the foundation just yet, though. First, you need to plan.
Choose Where to Build
Chances are you already have a homesite in mind. If not, you'll need to choose a plot of land that you own or that's available to purchase. Make sure that any regulations or restrictions that apply to the site won't get in the way of building the home you need, and make sure you have permission to build there. A real estate attorney can help you with issues like this.
You probably won't do anything else with the site until after you're ready to start construction, but next steps include clearing brush and debris away from the lot; having the site staked out by a surveyor; and altering the area's topography if necessary for construction. You'll need a contractor with earth-moving equipment for the last step, which is often necessary to keep water from flowing into the home site and causing structural damage later.
Before construction can start, you'll also need to have a few amenities set up for the crew to work with. A large roll-off dumpster will be necessary for getting rid of construction waste. You'll need to order at least one portable toilet for the workers. And finally, you'll need to order temporary utilities from your power company, and hire an electrician to set up a temporary electrical panel, so the contractors have a way to power their tools.
Design Your Future Home
For the next step in how to build your house, you'll want to finalize the design for your home.
You can hire an architect to create an entirely original home design from scratch, but a more economical choice would be to buy an existing blueprint from a design firm and have it customized. You'll still need to hire an architect, but it's usually much simpler to alter an existing design to better meet your needs than to design a totally new house. You might also meet with a professional interior designer to design the inside of your house, although this can probably wait until after the house has been built.
Before you choose or create a home design, it's important to get clear on exactly what you need out of your new home. After all, this is the whole reason you're learning how to build your house from scratch. The home you're building now will hopefully be where you live for a very long time, so you'll want to talk your time deciding what you want. Sit down with your family and brainstorm all of the features and design choices you'd like to have. You might browse home design books or images on Pinterest for inspiration. Once you have a long list of ideas, you can narrow them down when you meet with an architect, who can help you understand what everything will cost and how it could be done.
With your finalized blueprint and building plan, you'll finally be ready to hire contractors and prepare the construction site.
Beginning Construction
By this point in the process you'll probably be feeling very excited. You'll have a clear image of the home you're building, and with the site chosen and prepared, the momentum will have started to get you to the end of your project. This is the part where the building actually begins.
Pour Your Concrete Foundation or Basement
Your new home begins to take shape with excavation and installation of the foundation, slab, or basement. This part of the job will be performed by excavation contractors and foundation specialists, which are usually entirely separate from the carpentry contractors that will soon be on-site.
The footings and foundation comprise a significant portion of total house building costs. Because of this, large payment draws take place soon after the beginning of a building project.
If you're building the house on top of a slab foundation, you will need to bring in electricians and plumbers to rough-in certain services before pouring the concrete. This is because, for homes built on slab foundations, some of the plumbing and electrical lines run directly through the concrete slab. If you're building on top of a basement or a foundation with a crawlspace, these services may be installed later on instead. Your general contractor will know what's best in your situation.
Part of the slab foundation may be visible in the garage, but there it should be covered up with a garage floor covering finish.
Frame, Side, and Roof the House
Once the excavation and concrete work is finished, your project will start to become recognizable as a house. Over just a few weeks, the floors, walls, ceilings, and roof should be built surprisingly quickly.
The first step in this stage of the process is to create a framing order for supplies. You'll need lumber, nails, house wrap or builder's felt, and adhesives, according to your building plans. Weather permitting, a carpentry crew will arrive to build the frame once the materials are delivered. The frame is the basic wooden structure for the house, without any of the siding or roofing surface. Once the wooden frame is built, the walls and roof will be "sheathed" with some kind of house wrap to protect the structure from the elements.
Next the windows, doors, and any skylights will be installed, probably by the same carpentry crew that build the frame. However, it's also one of the tasks that you may be able to tackle yourself, since you've been learning how to build your house.
Then siding will be installed over the sheathing, followed by roof installation. At this point, the basic shell of the house will be complete.
Install Electrical, Plumbing, and Insulation
The interior work on your home will finally begin with insulating and setting up the plumbing and electricity. While you might be qualified to handle some of these tasks, such as installing toilets or sink fixtures, most of them are best left to the pros. You'll also have residential heating services and HVAC professionals set up a heating and air conditioner system.
Drywall and Finish Work
With pipes, wires, and insulation safely tucked into the walls, it will be time to cover them with drywall and complete the finish work. You will probably hire another subcontractor to hang, mud, and sand the drywall. They may also set up cabinetry, install trim moldings, and apply primer to the walls for painting.
Next you'll either bring in the local painters or do the next part yourself: painting the walls and ceilings.
Finally, you'll have someone install flooring and carpets around your newly-finished house.
Last it will be up to you to decide what additional features to add to your home, such as yard fixtures and home security equipment.
From initial paperwork to the last nail, this is how to build your house. You now should have a clear understanding of the challenges involved in learning how to build your house, and hopefully, you feel motivated and excited to begin.
Keywords:
$80 000 house plans, 2 in 1 house design, 2 story dream homes, 3 bedroom house plans free download, 3 floor building design, 3 story house blueprints, 4 floor apartment plan, 5 floor house plans, a house we built owners, a person who draws house plans is called, ad house plan 51773hz, ad house plan 52269wm, adhome plans, advantages of building your own home, affordable building methods, affordable built homes, affordable first home builders, affordable home designs llc, affordable house construction, affordable new build homes near me, all about house design.