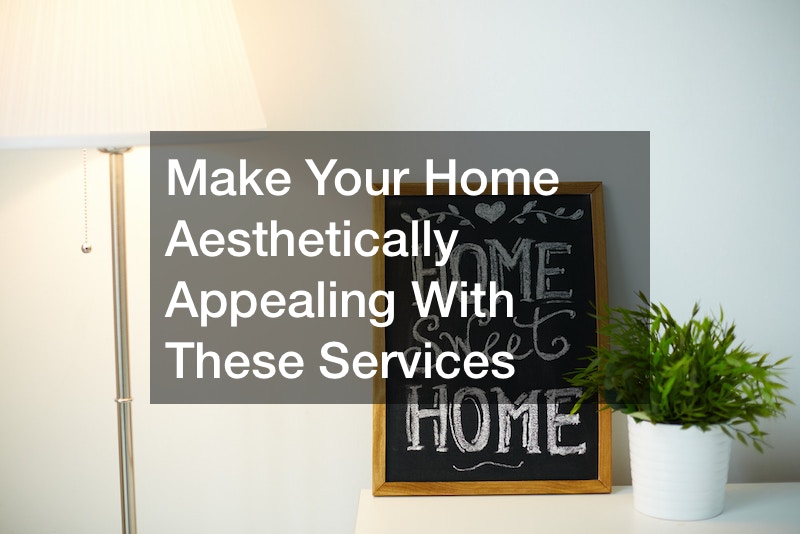 After a demanding day at work, your house is where you unwind. Therefore, it is essential for your home to have the ideal aesthetics that suit your taste, to make it feel as cozy and delightful as possible. Fortunately, this article will provide you with ten services to make your home aesthetic and improve its usability and comfort.
1. Interior Design Services
How we decorate our houses reflects our identities since our homes are extensions of who we are; thus, interior home décor is one of the vital services to make your home aesthetic. The main goal of interior design is to provide a striking aesthetic that personifies the room's grandeur, luxury, and elegance. The best interior designer services convert grand ideas into elegant, functional places by making a home look sophisticated and exquisite.
Accents are one of the most crucial components of attractive home improvement. It's incredible how much of a difference the right cushions, carpets, and throws can make to a space and how quickly they can make it feel cozier. Choosing quality over quantity and maintaining a consistent color scheme is crucial in this situation. Remember that minimalist does not necessarily imply dull, so don't be afraid to add some intriguing wall art, vases with odd shapes, or old home furnishings.
Even the most beautiful interior design can fail due to poor lighting. Make sure your lighting is perfect if you want to dazzle visitors with your impressive home decor. For modern house decor, pendant lamps are the ideal lighting option. Exotic plants can also enhance the interior of your home and make it look classic; therefore, you can opt to place a few sizable plants in your living room or the hallway.
2. Closet Design Services
Modern closet designs are constantly in demand, especially among people remodeling their houses, as it is among the essential services to make your home aesthetic. Since your daily routine begins and ends in the closet, it ought to be a tranquil, well-organized, and lovely space. Hiring a reputable custom closet design company will significantly make your routine easier by enabling you to enjoy the advantages of adding a customized closet system that includes rods, shelving, built-in drawers, and cabinets.
Although all types of closets are fantastic, nothing compares to a walk-in closet where everything is set up, organized, and classified according to your precise needs. You should also never underestimate the benefits of a beautiful light fixture as it is one of the simplest methods to build a luxurious closet without spending too much money. A hanging light fixture may enhance your space and give it that unique appearance even in a small walk-in closet.
3. Countertop Services
When selecting countertops, you should consider your personal aesthetic preferences. Would you want a matte, textured finish or a shiny, smooth finish? Given the prevalence of open-plan design, you should speak with an expert to ensure that the color of your kitchen countertop complements the rest of your house. Make sure the type and color you select for your countertops match your kitchen's theme since countertop services are also part of the vital services to make your home aesthetic.
If your budget allows, it's a good idea to use a luxurious material for your countertops. Exquisite countertops convey a distinct sense of style and may act as the home's focal point depending on its color, texture, and patina. Quartz countertops are trendy since they offer an aesthetic appeal without maintenance headaches. Quartz is a little more expensive than other materials but is worth it in the long term because it is strong and stain-resistant.
4. Cabinet Services
Installing specialized cabinets can be pretty beneficial to homeowners as it will help to improve their houses; hence their installation is also among the vital services to make your home aesthetic. Custom cabinets enable individuals to give their current living space a modern appearance.
However, to get the most out of these custom cabinets, consider the style, price, and material aspects when purchasing them since many types are available, ranging from elaborate to sophisticated. You should also seek a professional custom cabinet manufacturer that uses resilient and durable materials to make custom cabinets to ensure you get value for your money.
Frameless cabinets are the best choice for optimizing storage space. By doing this, you may use both sides of your cabinet without being concerned that the central divider would obstruct your storage space. The front of each cabinet can be extended by a few extra inches because frameless cabinets lack a face frame.
5. Renovation Services
You'll want to make a few improvements to your home if you're planning a makeover, but knowing where to start can be challenging because you can adjust many things to enhance home décor. We will go through several services to make your home aesthetic during a house remodeling aid you in this.
Your roof is one of the most exposed and prone to damage aspects of your home. No matter how much work you put into decorating your garden or home interior, a defective roof can diminish the appearance of the entire building. Its general appearance might impact your home's value in addition to shielding you from the weather and damaging elements.
Make it a habit to make repairs or replacements immediately whenever you notice signs of wear and tear, discoloration, or warping. Avoid waiting for the damage to worsen since early repair or replacement saves you money and maintains the attractiveness of your roof.
The busiest room in your house is probably the kitchen; hence, it should be considered during renovations and upgrades. Adding an island can make your kitchen more aesthetically pleasing and organized. To give your kitchen greater depth and impact visually, choose vibrant colors that complement one another.
The most excellent method to realize your vision for how your remodeled home should look is by working with a qualified professional in home renovation services. Hiring an expert skilled in your makeover's engineering and aesthetic components will guarantee that the results will be structurally secure and long-lasting.
6. Window Tinting Services
Window tinting is part of the vital services to make your home aesthetic. People have used window tinting to transform ordinary pieces of glass into beautiful works of art because window film allows you to add almost any patterns or shapes to your windows. Window tinting companies also create visibility bands, a sort of decorative tinting, which is an excellent substitute for methods like applying stickers to windows.
Most homeowners choose window tints primarily to reduce their energy costs. Traditional glass windows enable the sun's heat to enter, considerably increasing the temperature. With window tint, a large portion of the sunlight is blocked, allowing your house to stay significantly cooler and lowering the need for continuous AC use.
We all want sunlight to fill our homes, but we don't want to sacrifice the view by having to keep our curtains drawn all the time to prevent sunlight from ruining our furniture. The fading that the sun causes on your fabrics, carpet, artwork, and wood can be significantly reduced with UV window film. Therefore, if fading has been a problem, stop fumbling with window coverings and get your windows professionally tinted. Then you may enjoy the light without worrying about your furnishings getting damaged.
7. Interior and Exterior Painting Services
An interior and exterior fresh coat of paint may make a big difference. Your building will have excellent curb appeal, be shielded from harmful elements, and offer an excellent investment return by increasing your home's value. Interior painting is part of the essential services to make your home aesthetic and feel more comfortable because it is an affordable way to refresh your interior space.
New paint colors can create different moods depending on your chosen color scheme. For instance, green and blue colors elicit a peaceful and relaxing feeling, orange and yellow create a productive and energized theme, while neutral colors produce a cozy and content theme.
By having a home painting contractor paint the exterior of your home, you can shield it from destructive pests such as termites that invade wooden walls. Exterior wall painting also helps to prevent moisture from penetrating your home's permeable walls. A home's structural integrity may be at risk if there is too much absorption over time due to weakened walls. Mold can grow as a result of moisture inside walls, which can also have adverse health effects on your family.
It would be best if you used a qualified home painting contractor to paint your home as they are skilled in choosing the ideal color schemes that complement the design of your building. You do not need to pay much attention to choosing color combinations because they are even aware of the most recent trends in painting.
8. Landscape Services
Enhancing the appearance of your garden and the area around your home is one of the primary purposes of a landscaping service, which is also part of the vital services to make your home aesthetic. This detailing can be critical if you're attempting to sell your house, as it increases a home's curb appeal.
Many neighborhoods and cities have laws requiring grass maintenance. But just because something is frequently required doesn't imply it has to be a burden. Landscaping services can work wonders for your property's overall look by adding features like private ponds and outdoor walkways, which will significantly enhance the allure of your home.
The work that local landscape designers conduct goes far beyond just beautifying your yard since landscaping is also important to your property's environment's condition. Through targeted attention and care to the soil's composition and pH, landscaping prevents the growth of weeds. Without these unpleasant plants, your intended vegetation can grow into vigorous plants, increasing the air quality and protecting your property from flooding and erosion during heavy rain.
9. Outdoor Lighting Services
Whether you have a small backyard or an acre of garden area, outdoor lighting can create a cozy environment ideal for spending time outside; hence, it is part of the essential services to make your home aesthetic. Take into account how you use your outdoor space before installing lighting. Zoned illumination, which emphasizes a specific region, is one option if you have a patio, deck, or pool area.
Installing landscape lighting, garden lighting, and low voltage outdoor lighting around your trees and plants will help you draw attention to the best features of your property. Your home will unquestionably feel more inviting and appealing with the proper lighting. Additionally, it would help if you light up your driveway, garage, walkway, and front door.
Security is another critical factor in choosing the correct outdoor lighting. It will offer you peace of mind knowing that no intruders are hiding in dark places. You may also consider using light sensors to have lights turn on whenever they detect any movement in your outside space. Using a competent electrician is advised because these will need to be professionally installed.
10. Patio and Walkway Services
A walkway and a patio add aesthetic appeal to your house, and their installation is among the vital services to make your home aesthetic. Installing a patio in your backyard has numerous advantages, one of which is that it increases safety in your outdoor area. Just grass covering your backyard space could occasionally be slippery. During rainy seasons, it could quickly turn into a muddy mess, rendering the yard unusable for the remainder of the day, at the very least. However, adding a patio and walkway may prevent these issues and make your outdoor space a safer alternative.
Adding a patio to your backyard will enhance your outdoor gathering experiences since you will have the ideal area to relax by adding some patio chairs. Your home's value will also increase if you add a patio or walkway if you plan to sell your house in the future.
Paver stones are a great solution if you prefer a sleek, modern look for your patio design. Many natural stone varieties are available, such as bluestone and irregular Flagstone. Upon installation, these paver stones are simple to maintain, and regular upkeep keeps them appearing new and appealing.
These ten services to make your home aesthetic will help you create an ideal living space. Home is where we make memories; hence it is essential to make it as beautiful, functional, and comfortable as possible.