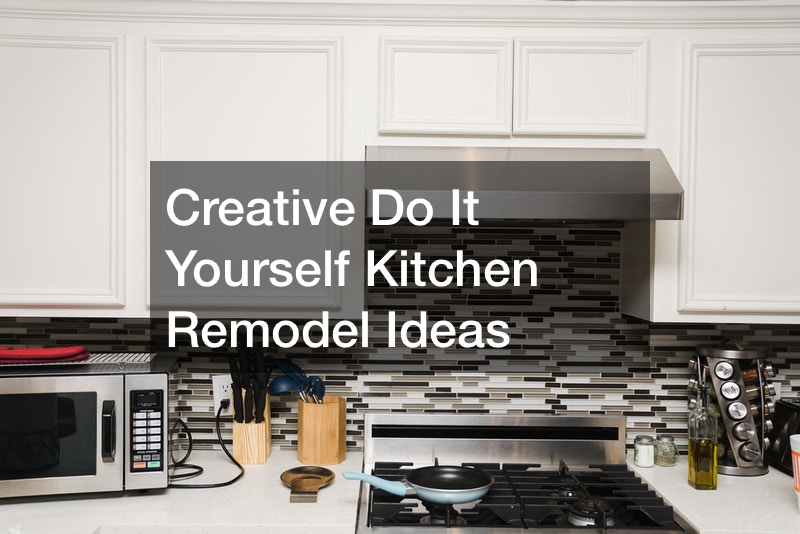 Just like the eyes are the window to the soul, the kitchen is the window to the home! The kitchen is where family and friends gather, enjoy each other's company, and make memories during the holiday season. If you want to enjoy all your home has to offer, there's no better way than to remodel your kitchen. Unfortunately, remodeling your kitchen can be a bit costly….right? Wrong! There are many do it yourself kitchen remodel ideas that you can do at a fraction of the cost! Best of all, you're the designer, creator, and contractor all in one! Why not take the summer or winter vacation to start some of these simple do it yourself kitchen remodel ideas? Below is a list of some of our favorite, cost-effective remodeling ideas that can be done in no time!
1. Cabinet Refacing
Have you ever wanted to get custom cabinets but just don't have the money to remove and replace your cabinets? You're in luck! Cabinet refacing is one of the easiest do it yourself kitchen remodel ideas that can not only improve the look of your home but also save you time and money. During cabinet refacing, you simply take off the old, outdated cabinet doors of your kitchen, reinforce the cabinets with wood, and then add on the new cabinet doors! Choose from a variety of styles, shapes, colors, and designs to make your kitchen truly unique to your taste!
2. Install Shelving
Nothing shows off a beautiful kitchen quite like gorgeous shelving. Exposed shelving is not only a simple way to add character to your kitchen, but it's also a great way to add extra storage space. Use your shelves to display your favorite cooking books! Or, use them to display those beautiful figurines that have been passed down for generations. Installing shelving takes just minutes. Choose from laminate or solid wood shelving for a timeless look. For a more modern and sleek kitchen design, try installing metal or even copper shelving. The choices are endless!
3. Update Large Appliances
Updating your larger appliances can save you money in the long run. Appliances that are old and outdated are not energy efficient, and they can run your energy bills sky-high. To prevent this, invest in some energy-efficient appliances such as new refrigerators, ovens, and dishwashers. Although it can be a bit pricey to replace your appliances, the money you'll save on your energy bills is worth it. In addition, this is a project that takes little effort on your part! With the help of remodeling services, you can get professional movers and remodelers to install your appliances for you!
4. Upgrade Your Countertops
One of the best do it yourself kitchen remodel ideas is to use epoxy and paints to upgrade the look of your countertops! If you want to achieve the look of timeless granite countertops or marble, simply pour epoxy over the surface of your countertops and go over them with gold or white paint. This is one of the simplest DIY projects that can mimic the look of more expensive countertops at a fraction of the price!
5. Upcycle Dining Room Furniture
Want to get a new dining room set but just can't afford the price tag? Don't worry, you can easily upcycle dining room furniture and incorporate it into your home! By painting over old wooden chairs, installing some DIY cushion covers, or even upgrading the upholstery yourself, you can get brand new dining room furniture at a fraction of the cost. For full dining room sets, consider looking around for an old dining room table. Once you've found the perfect size, sand it down and cover it with a wood staining agent. Or, you can paint over your dining room table and put it as the centerpiece to your dining room! These are some of the easiest do it yourself kitchen remodel ideas.
6. Install Mitered Edge Countertops
If you don't want to pay for new countertops, but want to upgrade the look of your kitchen island, opt for mitered edge countertop installation! Mitered edge countertops are a hot new trend for luxury and modern kitchens. To achieve a mitered edge look, simply combine your existing horizontal countertop with a vertical countertop panel. This gives a bold, dramatic, minimalist look to your kitchen. Best of all, installing a mitered edge or waterfall countertop can hide unsightly damage, plumbing lines, and wiring, and add a layer of protection to your kitchen island and cabinets. This is truly one of the most versatile and useful do it yourself kitchen remodel ideas.
7. Re-design Your Kitchen As Multipurpose
If you live in a smaller home or apartment, you might struggle to find space to sit down and do your work, relax, and eat. Why not combine all of those into a single, multipurpose kitchen? You don't have to be an experienced home builder to do this project! Simply combine your office with your kitchen by repurposing your island and using it as an office desk. Keep your kitchen tidy, and lay down a rug that helps blend your kitchen into the living area. These are just some of the many do it yourself kitchen remodel ideas that can help turn your kitchen into a livable space not just for meals!
8. Replace Your Kitchen Faucets
If your sink is in relatively good shape but you still want to upgrade it, opt for replacing your kitchen faucets. With the help of a local plumber, you can install newer faucets that are water-saving and add another layer of style to your kitchen. From stainless steel and chrome-finished faucets to gold-plated, farmhouses style faucets, there are virtually endless choices for faucets! Some other popular choices include matte black kitchen faucets too. It's relatively simple to replace your faucet head and takes only minutes. This is one of the best do it yourself kitchen remodel ideas to add value to your home.
9. Add a Tile Backsplash
Tired of the old drywall covering your kitchen? Or the outdated wallpaper that makes the kitchen look drab? Installing a tile backsplash is one of the easiest do it yourself kitchen remodel ideas that can truly make your kitchen stand out! Best of all, tile backsplashes come in a variety of styles. These include copper tile backsplashes, ceramic or stone tile backsplashes, brick tile backsplashes, and more. The right tile backsplash can add volumes of character to your home and either make your kitchen warm or brighten up the space. Visit your local hardware store to explore all your options. Tile backsplashes are usually available through stick-on sheets. You simply sand down your wall and peel the back of the backsplash for easy installation. If you're tired of your backsplash, simply take the sheet off and start over again!
10. Install New Blinds
If you want a way to cover your window while also still being able to view outside, window blinds are a great option. Blinds allow you to peer outside of your kitchen window so you can see your kids playing in the yard. This gives you peace of mind, while also offering protection against the sun's UV rays and heat from the outside. Electric blinds are now available so you can control the amount of light that comes into your kitchen with the touch of a button. Electric blinds and rolling blinds are all great assets to your kitchen and can make your kitchen feel more technologically advanced too.
11. Install Simple Curtains
If you don't like the look of blinds but still want protection and privacy in your kitchen, one of the best do it yourself kitchen remodel ideas is to install curtains. You can easily find curtain rods and a wide range of drapery at your local home decor store. Drapery can add lots of character to a kitchen. Choose from airy, white curtains, to warm, beige or maroon-colored curtains. Installing drapes in your kitchen costs very little, and it can be done in a matter of minutes.
12. Replace Your Windows
We've talked about adding blinds and curtains to your window, but what if your window is damaged? Window replacement can be a great way to make sure your kitchen is secure from burglars. Replacing your windows can also help you save money on energy costs. When windows are not properly sealed or have cracks, they can let in cold air and drafts that can leave your kitchen feeling extremely cold. This in turn leads you to crank up the heat in your kitchen. Don't keep a cracked or damaged window run your energy bills up. Instead, measure your window and visit your hardware store to find your new window replacement.
13. Extend Your Cabinets
Do you have cabinets in your kitchen that have awkward space above them? Are you always scratching your head wondering how you can use this space without it looking tacky or posing a hazard? Extend your cabinets by constructing new cabinets out of cheap plywood! This is one of the simplest do it yourself kitchen remodel ideas that can add storage space, complement your existing kitchen cabinets, and even prevent hazards such as falling objects.
14. Install Under Cabinet Lighting
If you want to add functionality and make your time in the kitchen easier, installing under cabinet lighting is one of the best do it yourself kitchen remodel ideas. Your local hardware store will have portable lights that you can simply stick under your cabinets. They are powered through batteries and can provide extra lighting to help you see later at night. Under-cabinet lighting can also be installed under the sink, so you don't have to struggle to find household objects like cleaners.
15. Install Pull-Out Trash Cans
Clear up some floor space and hide that smelly trash can away from view! To do so, install pull-out trash cans into one of your kitchen cabinets. When you open the kitchen cabinet, you can have access to your trash can and recycling bins. Throw away your trash and once you're done, close your drawer to get rid of the mess! This is fairly easy to do with the help of some drawer slides, plywood, saw, drill, and some old trash cans.
16. Add a Mini Bar
Have an empty space in your kitchen that you don't know what to do with? Add some sophistication and luxury to your kitchen by installing a mini bar! With the help of some overhead wine racks, a mini-fridge, an ice bucket, and your favorite cocktail recipe books, you'll have a minibar in no time! Invite guests over and have a dedicated space to prepare all your drinks. If you have more space, add some bar stools for a complete mini-bar feel.
17. Add a Magnetic Spice Rack
Some of the best do it yourself kitchen remodel ideas are those that allow you to have more storage space and easy access. If you struggle trying to find your spices while cooking and don't want to use a spice rack that takes up counter space, install a magnetic spice rack! You can also use your spice rack to store knives, utensils, and pots and pans. This can save you lots of space in your kitchen as well as make your kitchen look like it's truly a haven for home cooks everywhere!
18. Fix Your Plumbing
What good is a kitchen if you always have clogged drains, overflowing sinks, and the smell of rotten eggs wafting around? Before you start any of these do it yourself kitchen remodel ideas, Try and fix any existing plumbing issues you have around the kitchen. This can be as simple as pouring drain down your plumbing lines, cleaning your garbage disposal with baking soda and ice, or snaking out clogs. However, if these alone don't fix your plumbing issues, get professional help for your kitchen.
There are lots of ways to upgrade the look of your kitchen with little money down! Use these do it yourself kitchen remodel ideas to add character, value, and functionality to your kitchen today.