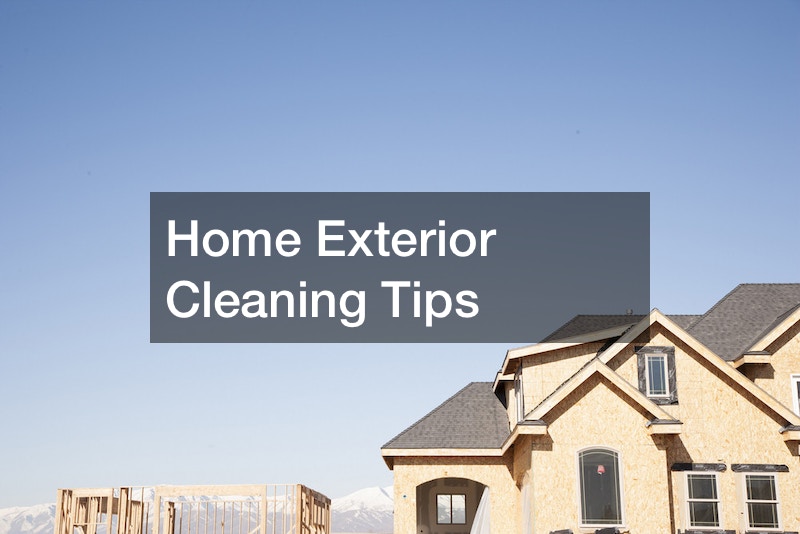 For the majority of people, cleaning their homes is all about making sure the interior is clean. However, this is not the way to go. Cleaning the home also means ensuring the outside is cleaned. This helps to improve the look of your home, and it also helps with proper sanitation. Your home's exteriors are exposed to lots of harsh weather throughout the year. As such, they carry way more dirt than the interiors. This is not to say you must clean the exteriors as often as you clean your interiors; you should just set time aside to keep them clean so your home stays looking fresh. Here are some exterior cleaning tips that'll help you clean with ease.
Make an Exterior Cleaning Checklist
It's crucial to understand why it's important to maintain your exteriors. This will ensure that you have a lovely new home that stays in good shape. If you didn't do this with your last home, it's not an excuse to not do it with the current one. Some of the exterior cleaning tasks you need to tackle include gutter cleaning, roof cleaning, roof repair,driveway cleaning, patio cleaning, external house washing, window cleaning, and pool cleaning.
Does this sound overwhelming? Don't worry at all. You don't need to do it every day. And you don't have to handle all the tasks on your own. Hire a pressure washing company to wash your roof, walls, driveway, and patio. You'll notice that you already have very few things left on your list. The most important thing is to schedule appointments regularly. Also, you need to make sure you do a maintenance check for the exterior of your home. Otherwise, there will be lots of damage and deterioration before you know it.
Cleaning your home will not only make it more appealing. It will also help you identify any areas that need repairs. Sometimes you may not notice that your siding is damaged until you clean the exterior and it comes apart. Cleaning will reveal that you need siding contractors to work on your home. It may also help you notice areas on your roof that are damaged. So, by the time you are done cleaning, you will probably start looking for a vinyl siding installer and metal roofer or another type of roofer. It's important to determine the type of roof you have so you know if you need to hire a metal roofer, an asphalt roofer, or another kind.
Windows and Screens
Window washing takes a lot of energy and time. It's even more frustrating when there are lots of windows involved. Well, that's unless you don't tackle it alone. If you try to attempt the job on your own, you will end up tired and frustrated. Also, you need to ensure that you are using the right products.
To make window-washing an easier task, you should get some help. Get your friends and family members to come to do it with you. You can wash the windows in pairs. Get someone to wash the exterior while you wash the inside or vice versa. Working as a team will not only make the job efficient, it will make things fun as well. You can even turn the chore into a game by making funny faces at each other. As you might imagine, that will definitely take away the frustration from the task.
Now that you have the teamwork part of your home exterior cleaning tips down, you also need to ensure you are using the right cleaning products and materials. That's one of the most important parts of your home exterior cleaning tips. To remove the dirt on your windows, mix some vinegar and warm water. The mixture should be one part vinegar and one part water. Once you have it, wipe your windows down with some newspaper. This is not only environmentally friendly but it will be easier on your lungs too. The good thing about newspaper is that it doesn't leave fibers on your windows as the small towels do.
Vacuum the Window Screens
Looking for more home exterior cleaning tips? Once you are done with your window glass, you shouldn't forget the screens. These trap lots of dirt, dust, and pollen. Therefore, you also need to ensure they are clean. One way to clean the window screens is to remove them and hose them down. However, that will take a lot of time and effort, depending on your window types. So, instead of doing that, you can remove the screens and vacuum them. For this, you will need a vacuum cleaner fitted with a soft-bristled brush attachment. That should do the trick.
It should only take seconds to do this. Of course, you can always give your screens a deeper cleaning every five years or so. That's when you can use the garden hose. Before then, a vacuum should be able to finish the job.
Clean the Sidewalks and Concrete Steps
This is usually left out of most home exterior cleaning tips. However, you should leave no area unattended when you clean. A very efficient way to clean these surfaces would be to have them pressure-washed. If any of your cleaning steps involves pressure washing, then you may as well have the guys do your steps and sidewalks as well. Once the steps are clean, it would be a great idea to paint them. To do this, look for some clean sand then mix it into the paint. The sand will act as traction when the steps get wet. Having colorful concrete steps will make your exterior look great, which will enhance the look of your home.
Clean Swimming Pool
This is not an easy task. When you have used your pool for a while, there's probably more dirt in there than you realize. Most people only think about body oil, hence you find fixes online talking about keeping a tennis ball floating. That might work for the body oil, but what about everything else? If you want to ensure that your swimming pool is totally clean, you should find a pool cleaning service near you. There are probably lots of such services around your location. This means you have to vet until you get to the one who will provide reliable and efficient services.
When looking for a pool cleaning service, you can start by asking your friends, colleagues, and family if they know a good one. Recommendations are a good place to start. You can then proceed to do your own background checks and research. If you can't get anyone from referrals, you should do your own search on the internet. Look for pool cleaners with lots of experience and verifiable addresses.
Handling the Garbage Can
This is one of the most ignored home exterior cleaning tips. You need to clean your garbage can. That will help prevent mold from growing. A garbage can that's not cleaned will start stinking, and it can even attract pests. Sprinkling a cup of borax powder into the garbage can is a great mold-prevention method. You can also line the bottom of the garbage can with a coating of powdered detergent. This will help repel the flies. You may be having a problem with dogs dining out at your garbage can, which is quite common. Did you know that sprinkling black pepper around the can stop them from coming over for take-out?
Hire a Pressure Washing Service
This is one of the most important home exterior cleaning tips. A pressure washing service will make it easy for you to do away with all the visible dirt, rust, algae, and grime. Before you hire anyone, inspect your home first and identify all the areas that could use a pressure wash. This includes any paved surface, the walls, and the roof. A pressure washing service will know the right kind of pressure to use for the different surfaces of your home.
A pressure washer can clean your roof efficiently and quickly. This will make it safer for the roofers when you order a roof inspection. Having a roofer climb on your roof when there's a lot of moss and mold can be dangerous. Residential roofing contractors also need the roof to be super clean, so they can easily inspect and see any areas that have issues. At times you may think your roof is dirty and old when it's just dirty.
People usually forget to clean their gutters. It's not easy to reach that high to see if there is any debris hindering the flow of water. Apart from that, most people think that debris will just be washed by the rain. Unfortunately, that's not the case at all. If you want your gutters to remain functional and unobstructed, you should clean them regularly. If you aren't sure you can do the job on your own, you should find a gutter cleaning service to do it for you.
Clean Your Patio or Deck
As you clean the walls, gutters, and windows, you must also keep in mind that the patio needs a good cleaning too. This is why patio cleaning should be on your list of home exterior cleaning tips. You should set aside time to ensure that all parts of the patio, including the walls and floors, are spruced up. Don't forget the furniture too, while you are at it. The best way to go about cleaning these things is to use cleaning solutions that are appropriate to the materials you are cleaning.
A clean patio can transform the look of your exterior almost instantly. This is why it's well worth the effort to remove all the algae and dirt from your slabs. A lot of dirt ends up on your patio during the winter months. You may notice signs of algae and mold. In most instances, there will be stains too. This usually happens when you have cooler winters and a rainy climate. To keep patio problems at bay, you need to conduct an annual clean. That way, you can enjoy the natural colors of your stone, cement, or concrete slabs.
With just a bit of effort, the right cleaning materials, and some time, your patio can look as good as new. You only need a few hours of dedicated cleaning. There are many different ways to clean the patio. If yours is just a bit grubby, you can probably get away with cleaning using soapy water. If you want an eco-friendly approach, then you can try using some vinegar. Most people don't know that vinegar is a potent cleaning agent. You can use it on your patio and in the kitchens and bathrooms.
If you prefer using a specialist product, you can check out biodegradable and pet-friendly cleaning products that are on the market. You just need to first figure out what type of dirt you are dealing with. Another great patio cleaning method you will find on most home exterior cleaning tips is pressure washing. The best pressure washing service can help make your patio look good as new. This is a great way to prevent algae and spots from building up over time.
Wipe Your Outdoor Lights
Are your outdoor lights duller than usual? This is usually due to dust, grime, and tree sap on the surface. You may not find this in lots of home exterior cleaning tips. Fortunately, giving your outdoor lights a quick clean will have them looking good again, and that will restore their radiance. Cleaning the outdoor lights is not too difficult. You just need to gather the right cleaning supplies. You can do the cleaning using a microfiber cloth. If the bulbs are starting to wear out, you may also want to consider swapping them out and putting in new ones. If your lighting design is dated, you can easily refresh it with new styles. This is a great way to modernize your outdoors.
Find a Landscaper to Help Beautify Your Yard
Once you are done with every other area, you should ensure that the grounds are clean and well taken care of. However, landscaping is a huge task. You may have to find a good landscaper service to handle your landscape design for you.
What do you think about these home exterior cleaning tips? Cleaning the outdoors can be tiring work, especially if you have a huge yard. Luckily, it can be quite rewarding. If you don't have enough time to clean the exteriors on your own, there are lots of experts who can help keep your home looking squeaky clean from the outside. For instance, you can hire a pressure washing service to sort things out for you. When looking for services to help you clean your home, take some time to look at reviews and testimonials. It's important to ensure that you work with the right people. That way, you can be certain that your investment will translate into something tangible.