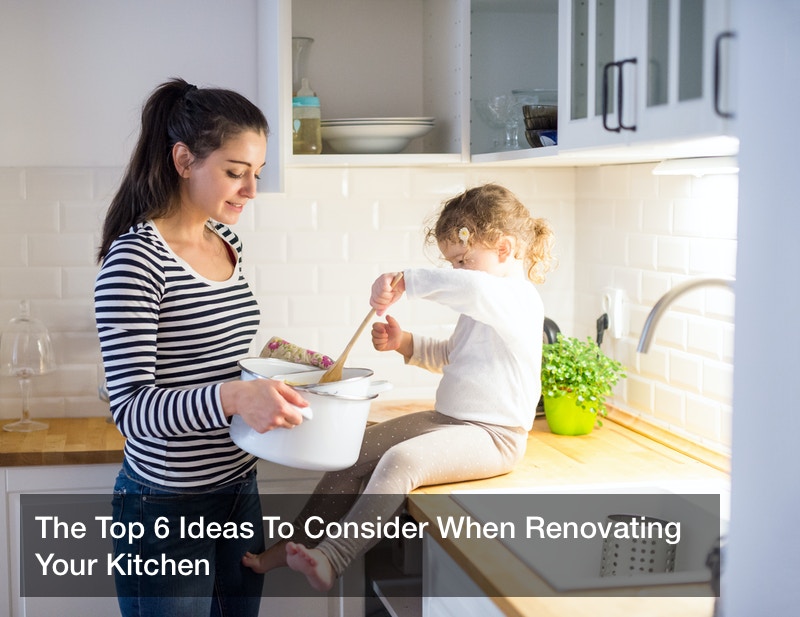 There are a lot of reasons why you may be considering renovating your kitchen. For one thing, the kitchen is one of the most stylized areas of the home. When people walk into your kitchen, they get an idea of your personal taste and preferences, as well as what the rest of your home's design may be like. This is because the kitchen is not just a utilitarian space where food is served, but also one of the main places in which people socialize. They may eat in the kitchen, cook together, or simply crowd around an island and have a good conversation. No matter what, a kitchen is important for more things than just food.
Roughly 76% of homeowners change the style of their kitchen during a renovation project, but that's hardly the only reason why you may be contemplating a renovation. Perhaps you bought a fixer-upper with the intent of renovating the kitchen. This will often take a lot of heavy-duty work, like updating the piping systems and overhauling the design aesthetic. But this could be a great way for you to get your dream kitchen without paying more than you can afford for a home, though it will require some time and patience.
Others renovate their kitchens for the opposite reason. Rather than updating a kitchen after buying an old-fashioned home, they renovate kitchens in anticipation of selling their houses. Whether or not you plan on selling your house anytime soon, a renovated kitchen can offer a great value add. Selling a house means correcting any glaring issues before it hits the market. But in general, you should cover some of the more practical issues that may be occurring within your kitchen before delving into the top kitchen renovation ideas. After all, you'll want your kitchen to look good and perform well. That means taking care of air duct sealing issues, lighting problems, and any electrical wiring quirks that may have been left unresolved within your house.
Once your kitchen is essentially a blank space and ready to be worked on, you can start exploring some of the top kitchen renovation ideas. These ideas can not only add value to your home but help you embrace your true aesthetic as a homeowner. Let's delve into them!
1. Gourmet Appliances
If you really love to cook, then one of the top kitchen renovation ideas for you would be upgrading to a gourmet kitchen. A gourmet kitchen will allow you to take your kitchen to the next level, both in terms of what you can make and how much you can make of it at one time. Of course, you don't have to make your entire kitchen rival that of an expensive restaurant. You can pick and choose which appliances are the most important and useful to you. Gourmet kitchen appliances can also elevate the look of your kitchen, creating a more unique and impressive appearance. You will want to make sure that you're prepared to "gut" your kitchen, as installing new appliances will require taking out the old ones or occasionally rearranging some of your plumbing to accommodate a relocated or higher-powered sink, for example.
Most gourmet kitchens today would include stainless steel appliances, as well as elements like pull-out trash cans, in order to keep the kitchen as clean as possible and cut down on pest control issues. There will frequently be additions like a faucet over the stove so that pots can be more easily filled with water. This kind of convenience eliminates the need to walk back and forth from the stove to the sink. A gourmet kitchen is highly attractive to future buyers if you do decide to sell your home down the road, as it creates a home that is more user-friendly and certainly more customized.
2. A Pizza Oven
This may seem to be quite an extravagant addition to the outside home, but pizza ovens are actually becoming more popular and accessible within houses. They're one of the top kitchen renovation ideas for intrepid home chefs. A pizza oven is basically a wood-fired oven, which means that it's only a viable option for larger kitchens. It's important to work with an experienced contractor when installing a wood-fired pizza oven, as there are many considerations to make. A pizza oven must be kept certain distances away from combustible materials and must be properly ventilated. It's certainly important that you have a great HVAC system set up if you want to install a pizza oven!
But after you've ensured that your kitchen is appropriate space for a pizza oven, it will become clear that there's a good reason why this is included among the top kitchen renovation ideas. Pizza ovens allow you to create one of the world's favorite dishes in a unique and authentic way. It's a great idea for parties. Just imagine having everyone gathered around your kitchen countertops or island, designing their own pizzas before they're thrown in the oven. It's certainly an eye-catching addition and could be a decision-making factor that buyers consider if your home is on the market someday. And if you are in the home that you're committing to for the rest of your life, what a wonderful addition for you to keep!
3. Updated Countertops
Any home remodeling service will tell you that people pay a lot of attention to kitchen countertops. Not only are certain countertop materials more durable and easier to clean than others, but countertops really create a color palette for your kitchen to follow — a baseline around which the rest of the kitchen can be coordinated.
In the past, tile countertops were popular, but as time has passed, that particular material has been relegated more towards backsplashes. This is because tile is prone to cracking and bacteria can collect in the grout upon which it is laid. Wooden countertops can also be troublesome due to their porousness and lack of durability. Therefore, it should come as no surprise that stone countertops have been favorited in recent years among some of the top kitchen renovation ideas.
Stone kitchen countertops come in many different forms. Marble is certainly popular, as is limestone. However, granite is particularly favored due to its varied appearance and durability. This doesn't mean that you can simply have stone kitchen countertops installed and forget about them. All of the top kitchen renovation ideas require a certain level of commitment, and you should be prepared to work with a natural stone care specialist to ensure that your countertops last for as long as possible. The great thing about stone is that, even on the off chance that it does sustain damage, much of it can be repaired fairly easily by a specialist through techniques like sanding. These countertops not only give your kitchen a more modern look but ensure that you won't need to worry about replacements for the long term.
4. Shelving And Cabinets
Storage is obviously a concern within any kitchen and many of the top kitchen renovation ideas surround how best to maximize storage. While you may want to add a pantry to your kitchen to better accommodate your non-perishable food items, it's also a good idea to invest in updated cabinets and shelving.
Cabinets, like countertops, can greatly impact the overall look and feel of a kitchen. For example, you may want to consider shaker kitchen cabinets, as they create a more classic feeling for your kitchen. Vintage Victorian cabinets, on the other hand, create a more old-fashioned look centered around the feeling of a farmhouse. The colors that you paint your cabinets are important, as well. While off-white and cream are popular shades for kitchens, many homeowners have started to become more creative and choose colors like rich golds or a rustic olive green. As with many kitchen ideas, the central goal is to create as warm and inviting a feeling as possible.
You may also want to consider open shelving for further storage or to hold decor. Open shelving is fresh, minimalistic, and rather beautiful if you choose the right shelving. You may, for example, want to keep clear pasta jars or candy jars on your open shelves. This could also be a great place to rest beautiful wine bottles. Local flowers look beautiful when kept on open shelves, as well. Though you may not want to use open shelving for some of your more precarious items, they're excellent for featuring decor and really setting a tone for your kitchen.
5. Kitchen Island
An island is perhaps one of the more popular of the top kitchen renovation ideas for a number of reasons. It essentially creates a centerpiece for your kitchen — a place where everyone can congregate, whether they're using stools and chairs or simply standing. An island is usually located at the center of the kitchen and can even be a good place for people to dine if you're being casual and don't want to set the dining room table. You are further able to use a kitchen island as a place to watch the big game, as a lot of people choose to set up televisions in their kitchens across from islands. A kitchen island gives you a lot more counter space to work with, as well. You can prepare food on the island rather than narrower counters and many find them easier to clean than countertops.
Of course, some choose to have additional sinks set up within their islands. This can become a bit more complex if you've engaged in well drilling on your property since your initial sink was set up, as this could affect your water source. Therefore, you should be careful to consult with a professional plumber before moving ahead with that particular idea for your island. Consider adding storage underneath the island, as well, for a trash can or additional drawer space. No matter what kind of materials you choose for your island, you can create a beautiful centerpiece for your kitchen.
6. A Wet Bar
A wet bar is a great addition to your kitchen if you like to host parties or simply serve yourself a mixed drink. In general, a wet bar — which often features some cabinet space, a sink, and a small amount of counter space — is an offshoot of a kitchen. Glasses and mixing paraphernalia, as well as liquor and mixers, can be housed at a wet bar. Some homeowners also choose to keep small ice machines connected to their wet bars. This allows you to mix and prepare drinks separately from the rest of the kitchen.
A wet bar is considered one of the top kitchen renovation ideas because it creates a sense of glamor. It's a bit vintage, as wet bars were once considered commonplace in homes made in the 1950s and 1960s. Hobby mixologists can refine their skills because they have a place to practice that's special. It's an extra bit of motivation to indulge. If nothing else, it can be a great talking point as you mix drinks for a party. Certainly, there aren't many people who can brag about having a wet bar!
Beginning a kitchen renovation project is quite the undertaking. You should first take care of practical issues like poor lighting and clogged drains, preparing your kitchen for stylistic changes. This would involve engaging with contractors and having any glaring issues taken care of. After this, you can work with interior designers and other contractors to begin plotting out the aesthetic changes to your kitchen.
Remember: though you need to make the kitchen that you want and love, you also need to consider the marketability of your home in the future. Someday, you may very well want to sell your home. Therefore, it may be counterintuitive to create a kitchen that is bright green or features a unique type of countertop that appeals more to you in particular than the public at large. You can still accommodate your own individual tastes; just don't go overboard. Investing in your kitchen is, in many ways, investing in your future. Choose your additions wisely.