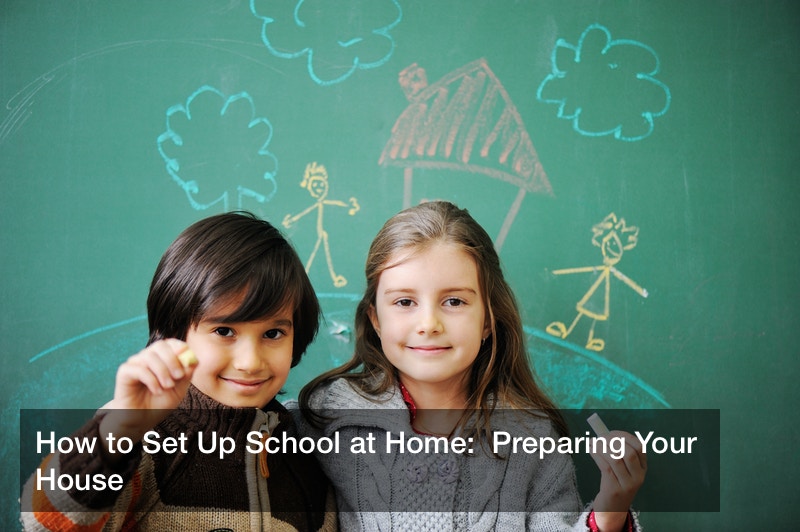 With social distancing protocols in place, many children are engaging in virtual learning instead of physically going to school. Having school at home is a major adjustment for your entire family. Proper planning and preparation are important to help things running smoothly. There are a few things you can do as a parent to set up your home as a place of success with your children's education. Here are the best tips on how to set up school at home.
Where Should School Be Set Up?
The first step in how to set up school at home is to choose a designated space for them to learn. The designated spot should be somewhere quiet, comfortable, and free of distractions. You can convert an unused room or set up a desk and chair in a room that isn't used often. If you live in a warmer climate, you can set up a space outside on your porch or patio. If you have limited space, you may want to consider hiring a garage door company to help you convert the garage into a classroom.
Once you have chosen your child's designated learning space, make it comfortable for your child to be in for extended periods of time. Invest in an ergonomic office chair and a table or desk. Make hardwood flooring easier on your children's feet by adding an accent rug. Ensure the area is well-lit through either natural light or by adding lamps. Keep televisions, gaming devices, and other similar electronic distractions out of the child's learning area.
How to Set Up an At-Home Classroom
Get your children involved in the process of how to set up school at home by letting them help you design it. Let your children be your assistant painters while you brighten up the walls. Choose colors that are relaxing and peaceful such as lavender, pale green, or light blue. Let your children pick their favorite colors to help them feel more excited about their new learning space. You may even want to consider painting a wall with chalkboard paint so you can use it for lesson plans or for keeping track of homework assignments and schedules.
Set up organizational systems and shelving to store everything your child needs. You may want to consider rolling carts on wheels to use as separate educational workstations. Use each cart for one specific subject to help boost focus and productivity. For example, one cart could be used to store arts and craft supplies while another could be used for workbooks. You can even use a cart to create a workout station to encourage physical activity.
Ensure Your Home Meets Your Kid's Schooling Needs
Another thing to consider when it comes to how to set up school at home is any necessary home renovations to meet your children's schooling needs. The average household spends approximately $2,000 on heating and cooling, lighting, electronics, and appliance service each year. You may want to create an area of your home to be used as a computer charging station or install fixtures for better lighting. Think about investing in smart technology that can help you keep your energy costs down with everyone being at home. You may want to renovate your basement to convert it into space where all your children can work on their schooling together.
With virtual schooling, your children's computers can take up a lot of power in your home. If you have a few children at home, you may want to think about whether your home has enough electrical power for all the computers being used throughout the day. You may want to have residential electrical work done to make sure your wiring can handle the heavier load. It may be a good idea to have more outlets installed as well. You may want to install cabinets and wall shelving to store school supplies and other essentials.
Addressing Safety in the Home
With the kids at home all day, it's important to address safety issues as you work on how to set up school at home. Think about what potential safety hazards may be lurking in your home. Make sure household chemicals and medications are out of reach. Check to make sure window cords are inaccessible for smaller children. Be sure your smoke detectors and carbon monoxide detectors are up to date throughout your home.
To keep your children safe while playing outdoors, you may want to consider a new fence installation. There are a couple of affordable options you may want to consider. Install vinyl fencing that has rails that touch to make it difficult for your children to climb over. You can also install chain link fencing with privacy slats to keep your children from being tempted by activity outside your yard. Have a locksmith service install auto-latch gate locks on your fencing for additional protection.
Is Everyone Comfortable?
The temperature of your home is another important factor when it comes to how to set up school at home. Make sure that everyone is comfortable by having your heating and air conditioning units inspected. If you notice noise coming from your HVAC unit, you may have blocked ducts that need to be cleaned. Clean or replace the filters every one to three months. Have an HVAC technician examine the seals to prevent air leaks that can waste energy.
Keep an eye on coolant levels to ensure the HVAC system is performing at optimal levels. You can also improve the temperature of your home by applying weatherstripping to doors and windows. Use heavy curtains to hold in your home's warmth. Have an energy audit done on your home to help determine which areas of your home may be losing heat. Install insulation in these areas to help lower your monthly energy bills.
Make Room for Some Fun
It's important to give your child breaks from screen time with fun activities. If it's nice outside, let them have recess outdoors for 30 minutes or an hour when possible. On rainy days, you can indulge in one of their favorite video games with them, like Minecraft. Go on a field trip and explore your local zoo or museum. Go outside and learn a new sport together in your backyard.
You can also incorporate fun with learning by watching videos or playing educational games. Create fun routines to start and end your school day. Include a cooking class into your homeschool curriculum and learn how to make some new delicious recipes. Get messy while creating artwork. Use your child's favorite activity as a way to reward them for conquering a difficult schoolwork task.
Get the Right Equipment
The most important aspect of how to set up a school at home is making sure your child has the right equipment. If your child will be doing distance learning, they will need a laptop computer and a printer. You should also get noise-canceling headphones with a microphone. Your child will also need normal supplies as they would if they were at school, such as notebooks, pencils, glue, and scissors. It's also nice for them to have a whiteboard to keep track of their daily schedule and assignments.
A desk lamp can make up for any lack of natural lighting. You may want to consider purchasing blue light blocking glasses to help protect their eyes from the strain of staring at a computer screen. You may also want to consider buying an external hard drive to store files that can take up a lot of space on the computer. Make sure you have a reliable Internet connection. For the best connection to WiFi, directly connect your child's computer to a router.
Safeguard Their Computer
Internet privacy is an important consideration when it comes to how to set up school at home. It's important to teach your children how to be smart and safe when it comes to online activities. Create a child account on their computer. Built-in parental controls will prevent them from accessing content you don't want them to see. Install a browser extension to protect your child's computer from malware and online tracking.
Ban food and drinks while your child is using the computer. Have your child's computer in the main area where you can actively see what your child is up to at any given time. Keep the device protected by keeping it on a stable surface. Never let your child use it on a bed or couch where it can easily fall. Talk with your children about the importance of not sharing their personal information or photos with people they don't know online.
Set Rules for the Learning Space
As you work on how to set up school at home, think about the structure of their daily activities. At regular school, there are certain rules and expectations your child is expected to adhere to. Your home's learning space should be no different. Set guidelines for your child to follow throughout the day. This will help boost their focus and productivity.
For example, your child may try to procrastinate from their schoolwork by taking frequent bathroom breaks. A rule or expectation that you can set is that bathroom breaks are only allowed at specific times. Stick to a schedule that allows time for work, breaks, and play. Communicate with your child's online teachers to address any problems or issues. Be flexible to make adjustments as needed. Review work at set times and be available to offer help or answer questions.
Find Local Resources
As you figure out how to set up school at home, take advantage of any resources available from your current school system. Many schools offer virtual classes and some school libraries have computers you can rent. You can get a free or discounted service from your Internet service provider. Your school system can also recommend resources that are available in your local community. There are free or low-cost educational programs you can find online if your school doesn't offer online learning.
You can also find local homeschool support groups online that can help you get access to the resources you need. They can recommend curriculums and educational materials. They can share tips and in-person educational support. Joining one of these groups can give your child the ability to meet new people their age and forge new friendships. Homeschool groups often meet together to participate in group activities and help tutor children who may need additional assistance.
Understand Your State's Homeschooling Laws
One more thing for you to consider in regards to how to set up school at home is the homeschooling regulations in your state. Each state has its own different expectations and requirements. These regulations detail the educational requirements your child is expected to meet while learning from home. You can find this information online through your state government's website. It's important to understand your rights and responsibilities when it comes to the home school experience.
To start homeschooling, you may need to file a letter of intent with your school district and be legally designated as your child's teacher. Some states require that a parent must have a high school diploma in order to home school their child. You may be required to record all your learning activities and submit a progress report twice a year if your child isn't involved in online distance learning through the school. Proof of your child's work may be required to be submitted to your local school district. Testing at your child's school may also be required on an intermittent basis to determine your child's progress.
Distance learning can be a challenge, but the proper planning and preparation can set your child up for educational success. Be patient and flexible with your child as they get used to the new adjustments. Use these tips for how to set up school at home to make it easier for both you and your children. You'll be able to help your child thrive and have peace of mind knowing they're safe and protected while they learn. Get started on setting up your child's school at home today!