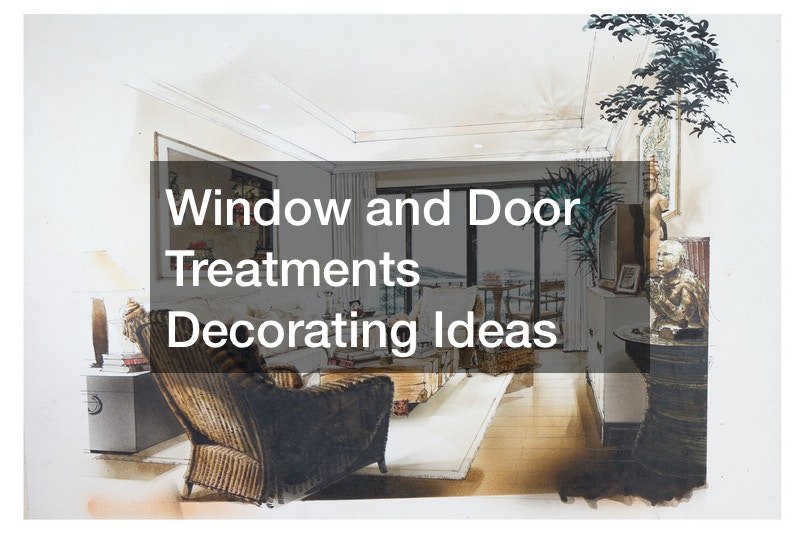 The right window and door treatments decorating ideas can transform your space and add more visual appeal. The trick is to know which trendy ideas to apply so you can dress your doors and windows accordingly. The wonderful thing is that most window and door treatments decorating ideas also add more functionality to your space. For instance, they can add more privacy and allow you to control lighting in your home. So, you can experiment with many window and door treatments decorating ideas that offer the best of both worlds when it comes to appearance and function. To get you started, here are some awesome window and door treatments decorating ideas that are worth checking out.
Floor to Ceiling Curtains
If your home has floor to ceiling windows and sliding doors, no doubt you enjoy the way they let in natural light. That said, while floor to ceiling windows and sliding doors can be a great addition to any modern home, they often leave you with little control over sunlight, which can result in an unwanted increase in temperatures. Fortunately, floor to ceiling curtains are one of the best window and door treatments decorating ideas that can solve this problem for you. Hanging curtains is one easy way to transform the appearance of a room, especially if you choose the right decorative elements. For instance, you can install a patterned curtain panel frame or curtains with grommets. Floor to ceiling curtains are generally ideal for living spaces and bedrooms.
Draperies
Draperies can be one of the most stylish and decorative treatments for windows and doors. They are a type of soft window and door treatment, although they tend to be heavier than curtains. You can find draperies manufactured from a variety of heavy materials, such as silk, damask, or velvet. The best thing about draperies is that they allow you to better control the light and temperature of your environment since they're also lined with a second layer of cloth. Additionally, draperies offer flexibility to explore many windows and door treatments decorating ideas since they come in different patterns, textures, and colors to suit any style. If you want a more elegant design style, then consider dressing your windows and doors with draperies.
Blinds
Unlike curtains and draperies, blinds are classified as hard window coverings. They are also a great idea if you're looking for a covering for your windows and doors that has a convenient operation. Blinds typically comprise slats that are stacked one over the other, so they cascade down the window or door when closed. Blinds have draw cords that you can control manually or motorized options that give you great control over your privacy. They also provide great sun control. If you want window and door treatments that can also act as a piece of decor, blinds are a suitable option because they come in many stylish designs that can enhance the appearance of your new vinyl windows or any type of window you might have. You can choose from many different types of blinds, such as Venetian blinds, roller blinds, Roman blinds, pleated blinds, and vertical blinds.
Shades
When it comes to the best window and door treatments decorating ideas, you can't afford to overlook shades that offer a wide range of decor options. For those wondering about the difference between blinds and shades, keep in mind that blinds have a structured design and are made from slats that can be tilted to let more light in. On the other hand, shades are made from a single continuous piece of material which is often softer than the material used to make blinds. The main type of shades you might be familiar with are Roman shades which blend well with many decor styles and have horizontal folds down the length of the shade to allow more light in. You can also opt for roller shades which come with many fabric choices and which you can easily roll up into a curled tube whenever you require additional light.
Shutters
Shutters are often compared to blinds, but they operate a little differently. The main difference is that instead of being installed on the inside or above the window or door recess, shutters are attached to the window or door frame itself. They are a great window and door treatment choice that can add more charm and elegance to your space. There are several types of shutter styles you might be interested in. Louvered window shutters are made for overlapping wooden slats that are often painted with an eye-popping color. You can also choose shaker style shutters which are made from flat and solid panels. Cafe style shutters are similar to louvered shutters, but they only cover the bottom half of the window. More options include board and batten shutters, cut out shutters, and Scandinavian shutters.
Sheer Panels or Curtains
Sheer panels are a type of curtain that's made from extremely lightweight material. As the name suggests, sheer curtains are designed to let light in because of their semi-transparent design. The biggest benefit of sheer curtains is that you can still enjoy some privacy and a bit of light. Sheer panels are also designed to give your windows and doors a softer appearance. Sheer panels are commonly made from materials such as gauze, chiffon, lace, linen, or silk. If you want to get the most out of your sheer curtains, one great tip is to attend to all window repairs and door replacement requirements. The semi-transparent nature of sheer panels can help showcase the beauty of your windows and doors from a design standpoint. Therefore, it helps to ensure that your windows and doors are in the best condition.
Light Filtering Curtains
Light filtering curtains tend to be made from a heavier material than sheer curtains. The advantage they have over sheers is that they offer more privacy, though not the same amount you would get with regular curtains. You can find light filtering curtains in a wide variety of fabrics, colors, and design styles, so this option can be quite versatile. They are also ideal for showcasing your windows and doors, so they might be a great option if you have recently installed a designer door. Light filtering curtains offer other advantages. They can be used to complement other existing window and door treatments, such as drapes and shades. They are also great for summer because they allow a breeze to come through, cooling the room naturally. Their lightweight nature also makes them easier to install.
Blackout Curtains
Blackout curtains have a specific function, but they can also be stylish. They are suitable for people who don't like to wake up to the harsh glare of sunlight on their faces. Sometimes, blackout curtains are actually drapes that are made from a particularly heavy and tightly woven material with a double lining. As the name suggests, blackout curtains are a far cry from sheer panels or light filtering curtains because of the way they will block out the light completely. Blackout curtains qualify as one of the best window and door treatments decorating ideas because they're available in a wide range of colors and designs, so you can find options that suit the existing decor of your home. If you want an option that won't block light as completely as blackout curtains, consider room darkening curtains which are typically made from a more lightweight fabric liner.
Solar Shades
Solar shades are often compared to roller shades, with the only difference being that they are made from a material called PVC or HDPE mesh. If you look closely, you'll discover that solar shades have small holes or perforations that allow you to enjoy the nice view outside while blocking sunlight. Solar shades are generally see-through, but the fabric's openness can be varied to control how much light filters in. The wonderful news is that solar shades can be installed on doors. However, that doesn't mean you can install solar shades on garage doors, overhead doors, or any type of door. Instead, they're more suited for French doors. If you have sliding doors, you can also opt for a solar sliding panel that achieves the same effect.
Valances
A valance is a short piece of fabric that's used for decorative purposes and only hangs across the top of a window or door. The beauty of incorporating valances as part of your window and door treatment is that they can be adapted to be installed in a variety of ways. You also have a wide range of options to choose from, starting with straight-gathered valances that have gatherings and a basic design. You also have shaped valances which usually have an M-shape and have a more exciting look compared to those with only straight bottoms. Swag valances have a more elaborate appearance because of the way the pleated sides. Other options that might pique your fancy include traditional swags, flat, modern swags, striped valances, and valances with bold, floral patterns.
Window Tiers
Window tiers are often compared to valances because of the contrasting designs. Whereas valances only cover the top part of a window or door, window tiers are a piece of fabric that covers the bottom portion of the window. They are similar to valances because they are mostly used for decorative purposes. However, they can have a functional purpose on windows since they can provide privacy while allowing light to still filter in from the top uncovered portion. If you're looking for a more creative window and door treatment idea, consider pairing a window tier with a valance if you want both privacy and light blocking.
Frosted Glass
Frosted glass or frosted film is a refreshing alternative to traditional curtains or other traditional window treatments. Frosted treatments might be more up your alley because of their versatility. This decorative window and door covering offers interesting and stylish alternatives to the norm because of the beautiful aesthetics. They're also a practical option designed to provide UV protection and better privacy. The good news is that frosted window tretaments can be applied to any glass panel, whether it's your window or sliding doors. What's more, frosted films are easy to install and generally more affordable than traditional options. That said, you'll likely achieve better results if your windows and glass panels are in great condition. If you have damaged windows, it's better to contact a replacement window company or look for window companies that are likely to give you a great discount on bulk windows and door orders.
Lambrequins
Some people have never heard of a lambrequin before, but this is a creative element that can greatly enhance the appearance of your window and door treatments. Simply put, lambrequins are short pieces of decorative drapery or curtain that can be used to cover the upper part of a window or door. There are different types of lambrequins that can be used to decorate the modern-day interior, including hard, soft, openwork, and combined lambrequins. Some experts refer to lambrequins as a type of valance with sides that come further down the window.
These window and door treatments decorating ideas are worth applying if you understand the importance of such treatments to your home's interior design. For starters, while window and door treatments decorating helps to boost the beauty of your space, it can also improve the energy efficiency of your home. They can prevent cold or heat from flowing into your home, which reduces the load on your HVAC system. You also get the benefit of enhanced privacy, so you get to enjoy the look of your space without worrying about prying eyes. The wonderful thing is, you can still get as much privacy as you want without sacrificing natural light by opting for options made from translucent materials. Other benefits you can expect from the best window and door treatments decorating ideas include better control over light and UV rays, the flexibility to customize treatments to suit your preferred style, and the overall improvement to your home's decor.