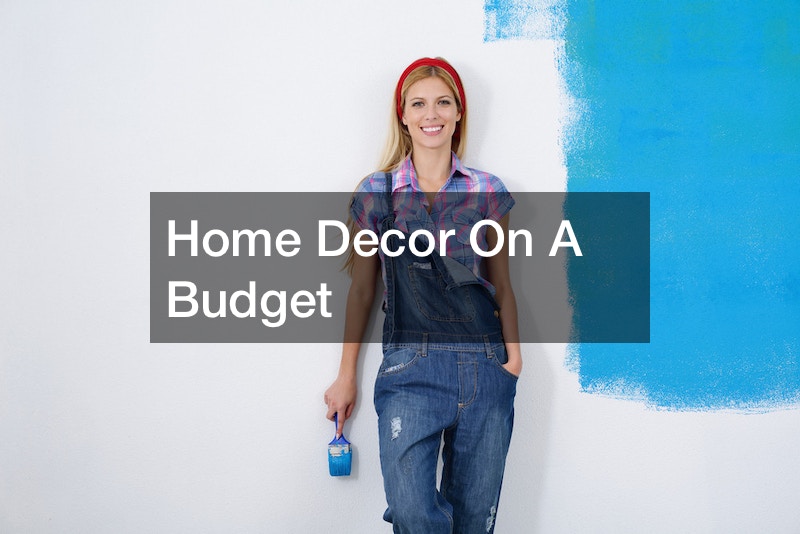 Do you plan to revamp your home? Decorating your house on a budget and attaining your desired results is possible. Here are nine practical decorating planning tips to increase your home's curb appeal on a budget.
1. Plan and Prioritize
Planning is a key step for decorative planning on a budget. What kind of look do you need? How will you achieve it, and what's your budget? Planning is critical when on a budget because you don't want to overspend or fail to achieve your decor expectations. Here are important tips to guide you in planning for your home décor.
Create Your Budget
You'll be decorating on a budget, so you've set a certain amount of money for the project. Determine how much you might spend, write the amount and stick to it. It will be easier to add your projections when you know your budget. Remember to determine the expenses you'll likely incur. Also, start saving for the project if you don't have enough money now.
Create a Wish List
Since you are on a budget, you may not change every aspect of your home. You should therefore create a wish list for what's important to change now and what can be decorated later. Write a list of your plans in order of importance, starting with the most important.
Plan on the Designer
Would you rather hire an expert, or can you accomplish it alone? Your budget and expertise will strongly determine this, but you can do the simple tasks and hire for the technical ones. For instance, you can hire a contractor for custom countertop installations while working on other simple kitchen decorations.
2. Update Window Treatments
A window is one of the most notable elements in a house, so its upgrade can create a huge difference in your house. However, you don't have to empty your pockets to decorate it; you can try plenty of budget-friendly ideas. Check out the cost-effective practices to consider for window decorative planning on a budget.
Repaint the Window Frames
Window frames are easy to notice, and adding fresh paint is a great idea to enhance their curb appeal. Choose a great color that pops out well and can make your windows beautiful even when you remove the curtains. Paint the frames on your own, or seek the help of an expert.
Consider Partial Window Replacement
Your windows will most likely show wear and tear signs if they are over a decade old. Therefore, you can decide to replace some of them since you're on a budget. Identify and replace the most worn-out window panes or those showing extreme wear and tear signs.
Change Curtains
There are plenty of affordable yet beautiful custom window treatments that you can consider for your windows. Find a great curtain fabric that matches the décor aspects of your home and install it. You can even hang beautiful kitchen towels on your windows to enhance their appeal.
Add Wooden Shutters
Shutters add privacy in a house, control the amount of light getting inside and prevent unwanted damage to your property. Wooden shutters are effective and also affordable due to the availability of wood. Adding wooden shutters to your windows is, therefore, a budget-friendly idea that you can consider to enhance the functionality and aesthetics of your windows.
3. Redo Your Existing Cabinets
Kitchen cabinets offer a great storage solution and enhance your kitchen's curb appeal. If you have cabinets in your kitchen, replacing them can be costly; you can try redoing them without having to remove them.
This decorative planning technique is quite effective and can refresh your kitchen cheaply. For the best results with your plan, you can seek the help of a kitchen cabinet services contractor. The expert should offer suggestions and help with the installation. Here are some ideas for redoing your kitchen cabinets.
Paint them
Painting is a great decorative idea to make your kitchen cabinets look new. If they have a dull color, choose a new brighter color that can improve the overall appeal of your kitchen. If you're not well-versed in painting, find great cabinet painters to help you get the look you need.
Add Cabinet Lighting
Many types of cabinet lights are installed below the cabinets. These lights are easy to install and don't consume your storage space. When installed well, cabinet lights can increase your kitchen visibility and boost the value of your home. Find the ideal type of cabinet lights you'd like to add and install them.
Try Open Shelves
Open shelves are great and can change your kitchen if you've always had closed cabinets. You can remove the cabinet doors and change the shelving arrangement to create a fresh look.
Replace Cabinet Doors with Glass Panes
Glass panes offer unobstructed views into your cabinets and can be a great addition to your kitchen. Instead of changing the entire cabinets, replace the doors with glass panes which are more classy and affordable to add.
Change Cabinet Handles
Changing cabinet handles may seem like a simple decorative idea. But it can bring a huge change. Add unique and strong handles that you can display on your cabinets to engage the look of your kitchen.
4. Choose Affordable Furniture
Furniture is important at home, and you may need to upgrade your furniture when doing decorative planning. However, getting new furniture may be costly if you are on a budget, so you should consider cheaper options. Here are great tips to help you choose an affordable home makeover.
Determine the Type of Furniture You Need
You may not change every piece of furniture in your home, so you should narrow your options. Do you need a bed, a chair or a bookshelf? Find what's important and start with it since you're on a budget.
Compare Options
Retail shops offer varying price quotes depending on their brand reputation and quality. Check what different retailers offer, and you may be lucky to find a cheap furniture outlet for your furniture needs.
Consider Multipurpose Furniture
Some stools can also be used as coffee tables, while some couches can also act as a bed. While doing decorative planning on a budget, find multipurpose types of furniture which serve multiple needs. The buying cost may be cheaper than having to buy the pieces differently.
Create Your Own Furniture
Sometimes, creating DIY furniture may be cheaper than buying it from furniture stores. Find out the average buying price, and compare it to the cost of creating your own. Ensure you have the right tools to create your furniture.
Negotiate and check for Discounts
Most types of furniture are negotiable, and you can purchase at lower prices if you negotiate well. Similarly, you can find stores with discounts and consider them for a budget-friendly purchase.
5. Update the Flooring
Flooring is an important aspect of a house that sets the theme of the entire interior. However, removing a shabby floor and adding a newer one when you are on a budget is expensive.
The process might be time-consuming, so you may look for alternative solutions. Here are amazing decorative planning solutions to update your flooring.
Add a New Carpet
Adding a carpet is the cheapest way to update your floor because carpets are affordable. Visit your nearest carpet and flooring store to check the available options and choose the most suitable for your home.
Add Rugs
Like carpets, rugs come in plenty of options and are warmer than carpets. You can find rugs in all colors and styles to match your home's decor. Start with the small rugs if your budget is tight, and increase the size with time.
Clean the Tiles
Perhaps, you don't like the look of your flooring because of its tough stains. This may be true if you live in a rented apartment and find the tiles discolored. In that case, you can decide to clean them with the right cleaners and enhance their curb appeal.
Add Wooden Flooring
Wooden floors are increasingly becoming popular because of their affordability and beautiful appearance. They come in many options, and you can negotiate the price with the right dealer. Find the right wooden floor for your home and install it for an improved home appeal.
6. Add a Fresh Coat of Paint
Painting is another incredible decorative planning idea that you can consider for your home décor. The ideal paint can protect your house and make it look newer if it's old. If you'd like to paint your home, consider these budget-friendly ideas to accomplish the task without breaking the bank.
Try DIY
You can save a lot of money by accomplishing the task independently. However, you should have the skills to do the work and deliver great results perfectly. Find time for painting, like on a weekend or holiday. Be sure to choose the right colors that will boost your home décor.
Borrow or Recycle
You'll need tools like brushes and paints to accomplish your project. The cost will be high if you buy everything from the store, so you can borrow some from your friends or recycle the old ones.
For instance, you can reuse brushes, tapes, and even rollers that you used on a past painting project to save money. You can even use your home's remaining paints to save money by buying new ones.
Hire Affordable Painters
Some interior painting companies offer affordable services and deliver great results. Find out the charges offered by companies near you and choose the best according to your budget. Also, understand the details of each prize package because some companies include the costs of paints on the price quote, while others don't.
7. Improve Your Landscape
Your compound creates a first impression of your home, so you should decorate it. Take some time to go through your compound and find out what might need a change.
One good thing about exterior decorative planning is that it doesn't have to be costly. You can start with cutting off the long grass in your yard, and this is a simple task to do alone or hire a handyman. Here are some suggestions for refurbishing your outdoor compound.
Attend to Flowers and Trees
Trees provide shade, offer privacy, and add to the beautiful appeal of your house. If you don't have enough trees and flowers, plant some to spice up your yard. Similarly, trim any long trees in the compound because they can block natural light from getting in the house and pose safety risks. Collect leaves and twigs from the flowerbeds and water them well. You can even try new flower species to add color and beauty to your compound.
Add a Walkway
Creating a walkway is a budget-friendly idea that you can consider for your decorative planning project. You can use pavers or stepping stones so your visitors or family don't have to walk on grass, which can be uncomfortable during rain.
Great landscape architects can help plan and install walkways in your home. You can also acquire the ideal stones and pavers from your nearest home improvement store to enhance the appeal of your home.
Add Lanterns
Your home's beautiful appeal doesn't have to disappear when the sun sets. You can install lanterns and other lighting options to offer enough outdoor lighting options. Lanterns not only make your home beautiful but also provide clear paths at night and improve your home safety.
8. Update your Deck
A deck is perfect for relaxing with your family after a busy day. It gives your home a beautiful look, and you can easily upgrade it cheaply. You can either seek the help of deck restoration services or handle the upgrades independently if you are experienced. Learn how to improve the look of your deck without spending fortunes by:
Power Wash It
Cleaning is the most basic improvement tip that you can try on your deck. Power washing your deck makes it clean and also helps you to see any cracks, holes, and uneven surfaces that may need your attention.
Repair the Deck
After cleaning, you will easily see the damaged parts of your deck, which need your decorative planning attention. For instance, you can remove the broken tiles only instead of changing all the tile flooring. Be keen with your repairs and ensure you have the needed tools to increase the success of your process.
Paint It
Painting creates uniformity and can make your deck more appealing. After the necessary repairs, apply your favorite paint on the deck. You can paint the poles only or the entire structure. Be creative with the paint for excellent results.
Decorate It!
You can add lights, seats, plants, and other accessories to make the deck beautiful. Even a simple outdoor rug can create warmth in the deck and create a significant change.
Start Decorative Planning Today
Money shouldn't be why you don't like the appearance of your house. There are many cost-friendly tactics to creating what you want, and you only need to plan well. Hopefully, the above tips will guide you in determining what you can improve in your home.